All the Best Vapes in the UK — in one comprehensive guide.
One of the biggest challenges of buying vapes in the UK is knowing where to begin. Every manufacturer wants you to believe that its products are the best vapes on the market – and with dozens of products to choose from in every category, it can be hard to wade through all of the promotional language and find the one vape that's perfect for you.
In this article, we're going to make your decision easier by identifying the best vape in every different category including the best traditional e-cigarette in the UK, the best disposable vape, the best vape pen and more. We're also going to explain the benefits of the different types of vapes, so you can understand why you might want to buy a pod system instead of a vape pen and whether you might be ready to step up to a larger vape mod. If you have a question about buying your next vape, you'll find the answer here.
This is your ultimate buying guide for the best vapes in the UK.
Table of Contents
View the Best:
Best UK E-Cigarette: V2 Cigs
V2 is currently the brand the best vape review sites show to be the number one e-cigarette. V2 offers a full range of high-quality e-cigarettes with great vapour, fantastic gourmet flavours and powerful batteries. These V2 products are the same shape and similar in size to your standard tobacco cigarette; this fact alone increases the chances of quitting smoking. There is no strange feeling you have to acclimatise to that you may get with the different shaped vape devices shown below, these just feel natural. The V2 Cigs Classic Range of electronic cigarettes and vape pen starter kits are ideal for those new to vaping. If you eventually reach a point where you'd prefer to select your own e-liquid flavours instead of using pre-filled cartridges, V2 also has a refillable mini cartridge available that's compatible with all of the company's e-cigarette batteries. All of V2's pre-filled cartridge flavours are also available in bottled form.
Benefits of E-Cigarettes
No other vape looks or feels more like a traditional cigarette. An e-cigarette is the only type of vape that you can hold between two fingers.
E-cigarettes have no controls or menu systems to learn. All that you need to do is charge the battery and twist on a cartridge, and you're ready to start vaping.
E-cigarettes are more environmentally friendly than disposable vapes because you can recharge an e-cigarette battery many times and only need to replace the cartridge periodically when it runs out of e-liquid.
How to Buy the Best E-Cigarette
Buy directly from the maker to ensure that you'll get fresh cartridges rather than stale ones. It's rarely a good idea to buy an e-cigarette from a convenience store or gas station.
Buy an e-cigarette that has a wide variety of flavours available. A good tobacco or menthol flavour can help you switch to vaping successfully, but you may grow to enjoy sweeter flavours later.
Buy from a reliable company that's been around for a while. It's very disappointing to buy an e-cigarette and switch to vaping successfully, only to lose your favourite flavours later because the company has gone out of business.
Best Disposable Vape (Box Format): Lost Mary BM600S
Available in four delicious flavours such as Berry Combos and Straw Golden Pina, the Lost Mary BM600S is definitely one of the best disposable vapes on the market for anyone who loves a fruity vaping experience. The stylish mini-box format is easy to conceal in your hand if you want to vape discreetly, and the Lost Mary BM600S also features a mesh coil for those who need a little extra vapour production.
Best Disposable Vape (Bar Format): SKE Crystal Bar
It isn't easy to find a disposable vape with a great tobacco or menthol flavour that can truly replace the cigarettes you're giving up when you switch to vaping. The SKE Crystal Bar is one of the rare exceptions, and this device also features a wide variety of sweet flavours that you'll love as you begin to transition from cigarette-like flavours to more varied options. The Crystal Bar has a mesh coil as today's best disposables always do, and it has a pleasing visual design that features a crystal-clear outer coating along with a shiny steel bottom cap.
Benefits of Disposable Vapes
A disposable vape is ready to use immediately – as soon as you remove it from the box. No other type of vaping device is charged and filled with e-liquid before you buy it.
Disposable vapes require no maintenance. There's nothing to recharge or refill. You simply use the device until it runs out of e-liquid, or its battery dies.
You already know how to use a disposable vape before you've even removed it from the package. Just puff and enjoy quick satisfaction whenever you need it.
How to Buy the Best Disposable Vape
Always buy disposable vapes from a reliable seller. Avoid retailers such as convenience stores that don't normally specialise in vaping products because fake disposable vapes are extremely common.
Buy a disposable vape with a modern design. Today's best disposable vapes feature mesh coils to provide puff after puff of rich, satisfying vapour. The technology is evolving rapidly, and you don't want to buy an older device that's already outdated.
Best Pod Vape (Pre-Filled): Elf Bar Elfa
With an extremely low starting price of just £7.99, the Elf Bar Elfa is truly one of the most affordable vape kits on the market. It even comes with one pre-filled pod, so you can start vaping right away. Just charge the battery and drop in the pod, and you're ready to go. The Elf Bar Elfa is made by the same company that created the Elf Bar and Lost Mary disposable vapes, so it's a great choice if you're currently using disposables and want to step up to a rechargeable device because you already know that you're going to love the flavours. Some of the most popular Elf Bar Elfa flavours include options like Blueberry Cotton Candy, Cola and Strawberry Ice Cream.
Best Pod Vape (Refillable): Innokin Arcfire
Innokin has always been famous for designing some of the world's best vapes for beginners, and the new Innokin Arcfire takes the company's philosophies to an entirely new realm thanks to the addition of the revolutionary Arc Coil. Built into every refillable Arcfire pod, the Arc Coil delivers absolutely superb flavour quality with every puff. The Arcfire also won't keep you waiting long when its battery dies, because the device reaches a 75-percent charge in just 30 minutes. Bought through our link, the Innokin Arcfire includes a free bottle of vape juice – so if this is your first vape, you can get everything you need with a single purchase.

Benefits of Pod Vapes
Pod vapes have some of the sleekest and most modern designs in the vaping world today. Pod systems aren't quite as small as traditional e-cigarettes, but they do offer superior battery life and vapour production and can be good for people who have higher nicotine requirements.
Pod vapes are very simple and require very little maintenance. If you use a pre-filled pod system, all that you need to do is charge the battery periodically and replace the pod when it's empty.
A pod vape delivers nicotine very efficiently when paired with a high-strength e-liquid. If you've tried a smaller vape kit and weren't able to keep away from cigarettes because the experience wasn't satisfying enough for you, you'll probably be happy with a pod system.
How to Buy the Best Pod Vape
Learn the pros and cons of pre-filled and refillable pod systems before you choose your device. Pre-filled pod systems are easier to use since they don't require refilling – but buying pre-filled pods costs more than filling your own pods in the long run.
Choose a device that suits your desired level of complexity. Some pod systems offer advanced features like adjustable power and replaceable coils, but you may not want to deal with the added complexity if you're new to vaping.
Buy a pod system designed for your preferred nicotine strength. Smaller pod systems are designed to work with high-strength e-liquids, which is what you'll probably want if you're new to vaping. Larger devices work best with lower nicotine strengths.
Best Vape Juice in the UK: V2 Platinum E-Liquid
Flavour is everything in vaping, and that's why choosing the right e-liquid is so crucial when you're trying to transition away from smoking. You're looking for a vape juice brand that provides a wide range of authentic tobacco and menthol flavours along with some sweeter options for those times when you're craving something a bit different. With 15 different flavours in all – including an incredible eight tobacco or menthol options – V2 Platinum e-liquid is without a doubt the best UK vape juice for those who want to make the switch successfully. Every bottle is lab tested to ensure total consistency. With V2, you know exactly what you're vaping and will enjoy nothing but the purest flavour and most satisfying throat hit with every puff.
Best 100% VG Vape Juice: VSAVI
VSAVI is our top UK e-liquid brand for those seeking vape juice containing 100 percent vegetable glycerine (VG) and no propylene glycol (PG). VSAVI e-liquid uses a proprietary VG formulation that doesn't cause clogged tanks, even in smaller vaping devices that don't typically work well with VG-based vape juice. Why should you buy a 100 percent VG e-liquid? Some people choose VG-based e-liquid because they're sensitive to PG. Others enjoy the smoothness, big clouds and full mouth feel of VG and want to use vape juice that accentuates those qualities. VSAVI vape juice is available in a large variety of flavours, including some of the most authentic tobacco flavours on the market. You'll also love VSAVI's sweeter options such as Coffee Cream Choco and Coconut Delight.
Best Nic Salt Vape Juice: Pod Salt
If you're going to use a small refillable device such as a pod system or vape pen, you'll want to fill your tank or pod with a high-strength e-liquid in order to ensure that the experience will be as satisfying as smoking. Some people find, though, that traditional e-liquids create throat irritation at high nicotine strengths. If that's the case for you, you might prefer nicotine salt e-liquid. Because it's less alkaline than traditional freebase nicotine e-liquid, it tends to be easier on the throat. Our pick for the best nic salt vape juice in the UK is Pod Salt. Available in 12 delicious flavours and in two nicotine strengths of 11 mg/ml and 20 mg/ml, Pod Salt is made in the UK and is specifically designed to appeal to the British palate.
How to Buy the Best E-Liquid
Buy from a brand that adheres to the highest standards for ingredient quality and consistency. The highest-quality e-liquids don't just taste great; they also deliver nicotine efficiently and won't contaminate your tank or pod with residue that makes it necessary for you to buy replacement components more frequently.
Choose an e-liquid brand that offers a wide variety of different flavours. You may prefer tobacco or menthol e-liquids now, but your preferences may veer toward sweeter flavours in the future after you've been vaping for a while. Also, flavour variety is an important part of keeping yourself interested in vaping and ensuring that you won't be tempted to revert to smoking.
Best Vape Pen in the UK (Removable Tank): V2 VSAVI Pro Series 3
If you enjoy having the ability to switch between e-liquid flavours easily, you'll love the V2 VSAVI Pro Series 3 vape pen because its simple drop-in magnetic tank system makes flavour changes quick and painless. The V2 VSAVI Pro Series 3 uses a leak-proof tank that drops into a chamber at the top of the device, and the fact that the tank has a glass wall allows it to deliver a flavour quality much higher than that of a pod-based device. The charger attaches magnetically for maximum simplicity, and the V2 VSAVI Pro Series 3 also works while charging.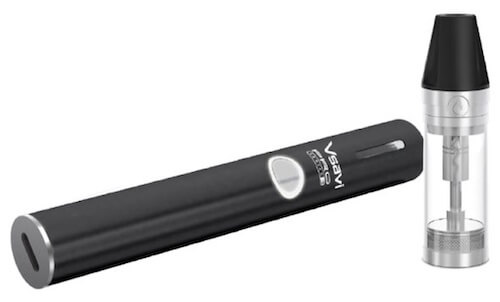 Best Vape Pen in the UK (Built-in Tank): XEO Void
The German-designed XEO Void is definitely one of the best vapes on the market if you want a vape pen that can grow with you. Using a replaceable coil system, the XEO Void supports both above-ohm and sub-ohm coils – so you can start out with a higher-nicotine e-liquid and reduce your nicotine strength in the future whilst increasing your device's vapour production to ensure that you'll remain completely satisfied. Because the tank of the XEO Void is built into the body of the device, leaking is almost impossible. However, the all-in-one design makes changing flavours a bit more difficult than it is with the drop-in tanks of the V2 VSAVI Pro Series 3.
Benefits of Vape Pens
A vape pen typically has a simple design, with just a single button for controlling the device. Vape pens are more powerful than traditional e-cigarettes, which is good for those with higher nicotine needs – but they're also simple enough that beginning vapers can enjoy them.
A vape pen provides a traditional vaping experience. Vape pens look a bit like small cigars, whereas most pod systems and disposable vapes don't look like tobacco products at all.
Vape pens usually have glass tanks, which allows them to provide superior flavour quality compared to pod systems.
How to Buy the Best Vape Pen
Choose between a device with an all-in-one design and one with a removable tank. All-in-one vape pens are a little sleeker, but a removable tank allows for easier cleaning and quick switching between flavours.
Choose between a puff-activated vape pen and one with a manual fire button. Puff-activated vapes are fun to use, but having a device with a manual button means that you'll enjoy bigger and more satisfying clouds.
Select a vape pen with a design that appeals to you. Remember that a lightweight design can be a valuable feature because you'll likely carry your vape pen in your pocket much of the time.
Best CBD Vape Oil: VSAVI
Having already released some of the world's purest gourmet vape juices, the VSAVI brand has since expanded to encompass a wide range of CBD products including both CBD vape oils and oral CBD drops. Available in both traditional and full-spectrum formulations, VSAVI CBD vape oil comes in a variety of different flavours including some with added plant-based terpenes for an even more authentic experience. VSAVI's versatile CBD vape oil formulation works with almost any refillable e-cigarette, vape pen or pod system.
How to Buy the Best CBD Vape Oil
Always buy CBD vape oil from a brand that tests its products to ensure potency and purity. CBD e-liquid should always be free of impurities, residual solvents and unwanted contaminants. Most importantly, the company should be able to guarantee that the product has the strength stated on the label.
Don't ever attempt to vape CBD oil that's formulated for oral consumption. CBD oil tinctures contain fats, which are dangerous to inhale. You should only vape a CBD product that's specifically formulated for inhalation.
Start with a low strength and use just a little CBD e-liquid at a time until you find the strength that's right for your personal needs.
Best Vape Mod in the UK (Tank Based): SMOK Morph 3
Using two removable batteries and operating at a maximum power of 230 watts, the SMOK Morph 3 is a true flagship vape mod in every sense of the word. To conserve battery life, the Morph 3 features an industry-first adaptive wattage function that automatically adjusts the device's output power in real time to provide consistent performance as the battery's charge level decreases. The SMOK Morph 3 kit includes the new SMOK T-Air tank, which uses a simple push-fit coil replacement system and has a top airflow vent for near-silent operation. Although you'll probably love the T-Air tank, the Morph 3 uses threaded attachments and will work with virtually any third-party tank as well.
Best Vape Mod in the UK (Pod Based): Voopoo Drag S
The Voopoo Drag S is one of the most compact and powerful pod mods on the market. Featuring a built-in 2,500 mAh battery, the Voopoo Drag S operates at a maximum power of 60 watts. It works with the full range of Voopoo PnP coils, which are available in resistances ranging from 0.15 to 1.0 ohm – so whether you're looking for a cloud-chasing experience or prefer using a device with more modest vapour output, the Voopoo Drag S can provide your perfect puff every time. The Drag S supports both puff-activated and button-based firing, which is rare among vape mods. The built-in airflow adjustment tab provides further opportunities for customisation, making this a vape mod that's perfectly suited for all possible vaping styles.
Benefits of Vape Mods
Vape mods are the most powerful vaping devices on the market. They operate at the highest wattages and produce the biggest clouds, so a vape mod is definitely the device you want if you enjoy cloud chasing.
A vape mod is usually designed to work best with low-nicotine e-liquids, so it'll provide a very smooth vaping experience with virtually no throat hit.
Vape mods may provide advanced features that aren't available in other vaping devices, such as the ability to define custom temperature or wattage curves.
How to Buy the Best Vape Mod
Choose between a tank-based or pod-based device. A tank-based vape mod has threading that allows it to work with third-party attachments, meaning you can upgrade your device simply by buying a new tank. Pod-based mods are often smaller and lighter, but they're generally not compatible with third-party attachments.
Choose between a device with a built-in battery or one with a removable battery. A vape mod with a built-in battery is often less expensive, but you need to replace the entire device when the battery stops holding a charge.