The Best E-Cigarette
By Tracey Jackson
Our objective in our e-cigarette reviews is to ensure you obtain straightforward, accurate information on the best brands available in the UK for 2018. This ensures that you do not end up having to buy poor quality products and either give up trying for good because of a disappointing experience, or even having to buy additional products to find one that fits. See the detailed e-cig reviews Here
Our method is straightforward – to compare the results from top e-cigarette review sites of all their best electronic cigarettes and best vape pens and give you only the best recommendations. Here we narrow the range down from the top 10 to 5 of the best vape pens available.
This gives you an unbiased and independent e-cigarette reviews summary to ensure you save time and money and get a best quality product.
What are you paying for your e-liquid – health-wise and price-wise? Do you know or care what you are inhaling?
The vast majority of electronic cigarette components are sourced from China – and then rebranded by the e-cigarette companies. It is important that good companies ensure quality control and that they use good quality components.
However this is where the process breaks down.
Too many e-cigarette companies are in this early stage market to make a quick buck and unfortunately the quality of the product is not their top priority. By "reviewing the review sites" we ensure that only serious e-cigarette product providers are featured on this site offering only their best e-cigarette and best vape pen. For details of calculations see the calculations page
There was a big change in 2015 and 2016 when the UK Government intervened to regulate e-cigarette products and TPD regulation is now incorporated into UK law as of May 2017.  This should in theory ensure the electronic cigarette industry as a whole upgrades product quality. Companies now have to ensure their products comply and provide minimum product standards and reporting of ingredients and emissions. It will be interesting to see the effects of any regulation and what influence it has on the best e-cig UK market. Many UK companies have not, and may not, go through this costly licensing process and may not survive this legislation.

The Best E-Cig 2018
To establish what is the best e-cig for 2018, we have taken the top electronic cigarette reviews from all the 2017 e-cig review sites we analyse. See below for a summary review of each one. One company has introduced new technology – this is a real game changer for advanced users and includes the introduction of their new hi-tec best vaporizer pen for 2018:
The V2 Pro Series 3 – reviewed here.
For those new to e-cigarettes though, I recommend sticking with the V2 prefilled refill option, reviewed below, for ease of use – this is preferable to using the "fill your own" e-liquid option and will allow a straightforward transition from smoking to vaping. Keep it simple to start with!
The best electronic cigarette starter kit for those new to vaping is without doubt the V2 Ex-Series.

Our Top 3 E-Cigarettes
1st Place:

V2 Cigs Review. Visit V2:  UK Site  |  USA Site
V2 Cigs
 offer top range quality and are therefore well placed to take advantage of future legislation. Importantly, their e-liquids contain no impurities and are lab tested. A full lab report is available online for every batch of e-liquid and gives full details of ingredients so you can vape with confidence. Their introductory express kit vape pen kit is a steal at
£16.99
and will help get you started on a low budget.
Their products give a lot of vapour, and a realistic and reassuring throat hit. They offer the widest range of accessories of all three companies including a sleek design PCC option so you have more customisation options which the others don't.
Best Starter Kit
For simplicity and convenience for a regular smoker V2 offer the cartomizer option prefilled with e-liquid.
They also take another step by offering a wide range of e-liquids to accommodate heavier smokers and the shisha pen market – a range of tobacco and e-shisha flavours to use along with their tank system/shisha pen. (see Ex-Blanks below). With its 4.2 volt battery it is more than equal to any ego at half the size. Their Red and Congress flavours rank in the top of the best tobacco taste e-liquids available.
Many E-Cigarette reviews also show that their menthol flavour is exceptional. Refill running cost is relatively cheap and with the e-liquid option you can save even more.
For the purist, they also offer their "Ex Blanks" carts which are a straight forward clear mini tank system that you can simply fill using any e-liquid. Coupled with their high power battery (we like the black battery with this option) you can vape all day effortlessly. In the early days, poor quality batteries forced the market to introduce the oversized and rather clumsy "mod" or ego type electronic cigarette – but V2 technology allows for a 4.2 Volts/380 mAh battery in a neat and tidy design. I would suggest that this may well make the ego cig obsolete. V2 Cigs is much closer to the feel of normal smoking which is important especially when you start out – something vital that the "mods" are lacking.
 A standard pack of cigarettes weighs around 24g and the standard V2 Cig comes in at 17.5g (they do a smaller one too). Some E-Cig Reviews show that the new Innokin ranks well in the ego/mod type e-cigarette space. But this weighs in at a whopping 73g. It is over twice as long as a cigarette and over four times heavier than the V2.
Quitting or reducing the smoking habit needs a practical solution to make it as easy as possible.
V2 Cigs, now Vapour 2 in the EU, has a new designer range called  the Ex-Series – and this is new and unique patented technology.
It includes a carbon fibre look battery that doesn't light up at the end and brand new refill technology which ensures a clean vape with no burnt after taste! The Ex-Series comes in both automatic and manual options. In 2017 V2 introduced the V2 Vertx micro-vaporizer range of advanced small scale vape pens which includes a cigarette sized variable voltage device – magnetic charging and a touch sensitive screen power adjustment.
They also offer a range of elegant e-cigs for women – Vapor Couture. Not quite as powerful as Vapour2 standard equipment but excellent vapour compared to the competition and all wrapped up in a neat feminine designer e-cigarette. The Ex-Series e cigarette has now replaced the Vapor Couture Range.
Their quality products and continual innovation secures their position as the best e-cigarette UK brand.
There is a reason why they are the #1 USA e-cigarette*.
V2 Summary
Basic Kit Price: £22.95
Number of flavours: 12
Battery Price: £13.99
Max. Battery Spec: 380 mAh
Refill Price: £8.99 per 5 pack
PCC option. Yes
Jac Vapour is one of the more established UK e-cig brands and offer a good selection of e-cigarettes
 and vape pens. Jac Vapour have been around since mid 2010 and over the last couple of years have started to offer some competitive vaping products.
Jac Vapour V1P
The Jac Vapour e-cig kit is rated well because the product is  good quality and the recommended V1P+ e-cig kit offers a Portable Charging Case (PCC) and a USB charger which ensures you can charge your e-cigarette battery on the move or in the house. See the Full review here.
There are six Jac Vapour kits ranging from around £20 to £50.00. The main advantage of the kit is the well made PCC – for those who travel extensively a PCC is a must. Both Jac Vapour and V2 Cigs offer very similar quality PCC devices though the V2 battery is the more powerful at 4.2 Volts and 380 mAh compared to JV at 3.7 volts and 280 mAh.
Jac Vapour Summary
Basic Kit Price: £26.99
Number of flavours: 8
Battery Price: £12.00
Max. Battery Spec: 3.7 V 280 mAh
Refill Price: £6.79 per 5 pack
PCC option. Yes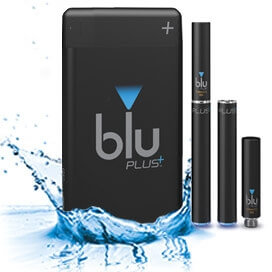 blu sells three products – the blu PLUS+ Kit, the blu PRO kit and a disposable  device, the blu GO. The Plus kit comes in two kits one with a portable charger and the other without a PCC. This is another good solid product from the USA. Their marketing is second to none – with a well designedwebsite.
The basic blu PLUS electronic cigarette starter kit will cater for the majority of lighter smokers but throat hit not as good as V2 or Jac Vapour. Read the full blu reviews here.
It's important to note that whilst blu is a good product, some vapers have commented on the slightly louder than usual air intake sound when vaping – this is not as loud as the Vype or South Beach equivalent products but it is still very noticeable. Imported generic devices will have their faults and also tend to be lower grade quality. Blu has drawbacks but offer a quality well made product. At £6.99/2 pack refills are the most expensive here.
blu Summary:
Kit Price: £29.99
Number of flavours: 5 limited!
Battery Price: £5.99 PLUS. £12.99 the PRO
Max. Battery Spec: PLUS ?. PRO 1100ma
Refill Price: £6.99 per 2 pack. Most expensive here
PCC option: Yes
4th Place: Green Smoke Review. UPDATE: April 2016 Green Smoke have pulled out of the UK without Notice
More info on Green Smoke Compatibility for UK customers here
Green Smoke Compatible Cartridge Refills. Green Smoke UK
Sadly Green Smoke has closed its doors to UK customers. It no longer operates in the UK and its USA site appears not to ship to the UK. V2 now offer a free adapter to Green Smoke UK customers that allows Green Smoke compatible Cartridge option with their quality cartomizer range. Use the V2 Discount code GSADAPTER when you order. V2 offers fully lab tested e-liquids with full ingredient transparency. It's good to know that V2 cartridges work out cheaper than Green Smoke cartomisers – see our full Green Smoke Cartridge and Refill comparison guide.
Green Smoke E-Cigs have certainly come on in the past year or so and feature heavily in some of the e-cigarette reviews. This may have much to do with their successful PR rather than the quality of their device – having said that their product is still reasonable. These are effective high end quality products delivering a good "smoking experience".
There is sufficient vapour production which is a must for all those wanting to switch away from traditional cigarettes – many e-cigs brands just don't have it but Green Smoke does. There is also a reasonably good throat hit using their high nicotine 2.4 mg carts. Battery life is excellent.
One downside is that Green Smoke doesn't offer a refillable option on their cartomisers – so they will prove more costly to run in the long term and restrict your choices on what you can and can't vape. There is no PCC option so no on the move charging ability. Good, but not the best vape pen starter kit. Full Green Smoke Review
Green Smoke Summary:
Kit Price: £29.97
Number of flavours: 7
Battery Price: £10.97
Max. Battery Spec: 270 mAh
Refill Price: £10.39 per 5 pack
PCC option: No
The South Beach Smoke device is very well made. The basic vape cig starter kit will cater for the majority of light smokers and recreational users. Vapour production is better than the more popular e-cigs brands in the UK and battery life on their Super Max battery per charge is excellent – lasting a full day with heavy vaping. Vaping feels smooth, however the throat hit associated with normal smoking is not as significant as either V2 Cigs or Green Smoke even when using 2.4 mg strength.
When vaping, there is a louder than usual air intake sound. This felt a little strange but was also accompanied by a very easy draw – maybe too easy – much less resistance than a normal cigarette so the feeling is not quite the same as when smoking. Buy from their USA head office as we understand there have been issues with the independent UK retailer. Relatively very costly cartomisors/refills will affect ongoing costs.
Whilst there are drawbacks, the advantages of reliability and a well manufactured products far outweigh them. Certainly a quality electronic cigarette brand but not the very best out there. Excessively expensive refills making running costs the most expensive of the line up – they need to fall in line.
South Beach Summary
Basic Kit Price: £59.99
Number of flavours: 18
Battery Price: £9.99
Battery Spec: Unpublished mAh
Refill Price: £14.99 per 5 pack
PCC option: Yes
Say Hello to the New Ex Batteries – The V2 You Know Multiplied by WOW.
---
A last word on fuel for your e-cigarette, vape juice or e-juice.
The e-cig market is unregulated so you need to be vigilant. Most UK review sites or vaporiser comparison sites don't highlight this significant issue enough but there are many reports available that demonstrate the large disparities between ingredients used by e-juice manufacturers. TPD regs go some way to addressing compliance but more is needed. The difference between first rate e-juice and your run of the mill e-liquid should concern you as it could affect your health long term.
Some ingredients in some e-liquids are seen as potentially very hazardous yet e-liquid companies are all telling us that they have the best e-juice.
The Karger medical publication states:
"Their nature is generally not specified other than in imprecise terms like 'vegetable flavoring',… some artificial flavorings have been shown to be cytotoxic."
Companies are now beginning to understand that clean pure e-liquid is imperative. Some have now introduced laboratory testing and use only medical grade e-liquids which is what this review site recommends.
See the best vape pen UK review summary - includes best dry herb and wax personal vaporizers.
Edited by Tracey Jackson e-cigarette reviews UK.
@ e cigarette reviews UK | helping you find the best of the best e cigarette UK, Shisha Pen UK and Vaporizer pen uk.
* As ranked by Alexa.com
Each cart is 1-1.5 packs – claimed.
Prices as at 16 October 2017.
These e-cigarette reviews includes some personal view points on the best electronic cigarette uk. * Lifetime warranty is USA consumers only. UK consumer rights are covered by The UK's Sale of Goods Act