The Best E-Cigarette
The aim of our reviews is to give you straightforward, accurate and up-to-date information on the best e-cigarette brands available in the UK for 2023. We know that with all the products and options available it can be hard to know where to find the best vape products for great value.
Our method is straightforward – we compare the results from top e-cigarette review sites of all their best electronic cigarettes and best vape pens to give you only the best recommendations. Consequently this gives you an unbiased and independent summary of the most reliable e-cigarette reviews to save you time and money while making sure you get a high quality product. In this section we look at the best 3 vape pens available to make your decision easier. See the detailed e-cig reviews here.
What is the Best Vape for 2023
This year, Vsavi/V2 in conjunction with TPB have introduced new technology with the introduction of the new Riptide Ripstick next generation vape pod system which replaces the Pro 3X. This is a real game changer and includes the introduction of their new proprietary NICTECH 100% tobacco free vape liquid.
For those new to e-cigarettes though, I recommend sticking with the V2 cigarette like prefilled refill option for ease of use. This is preferable to using the 'fill your own' e-liquid option or using a vape product that does not resemble a cigarette and will allow a straightforward transition from smoking to vaping. Keep it simple to start with!
The best electronic cigarette starter kit for those new to vaping is without doubt the range of V2 Vsavi vape kits.

Our Top 3 E-Cigarettes and Best Vape devices
1st Place:

V2 Vsavi Review.
#1. V2 at a glance:
Basic Kit Price: £19.99 – £34.99
Number of flavours: 12
Battery Price: £13.99
Max. Battery Spec: 380 mAh
Refill Price: £8.59 per 5 pack (based on buying 40 pack)
PCC option. Yes
---
V2 offer top of the range best quality and fit for purpose vape devices which are suitable for those wishing to quit smoking and make the transition to vaping. Importantly, their e-liquids contain no impurities and are lab tested for safety. Most noteworthy, a full lab report is available online for every batch of e-liquid. The report gives full details of ingredients so you can vape with confidence. Their introductory express kit vape pen kit is a steal at £17.99 and will help get you started on a low budget.
Their products give a lot of vapour and a realistic and reassuring throat hit. They offer the widest range of accessories of all three companies including an interchangeable e liquid tank option that is compatible across the range so you have more customisation options.
Best Starter Kit
For simplicity and convenience for a regular smoker V2 offer the cartomizer option prefilled with e-liquid. Their starter kit is cheaper than those from our other highly rated manufacturers, offering impressive value for money with no compromise on quality.
They also offer a wide range of e-liquids to accommodate both heavier smokers and the shisha pen market – choose from their range of tobacco, fruit and sweet or e-shisha flavours to use with their tank system/shisha pen. (see Ex-Blanks below). With its 4.2 volt battery the Classic kit is more than equal to any vape pen kit and almost half the size feels much more cigarette like.
The V2 Red and Congress flavours rank in the top of the best tobacco taste e-liquids available. Similarly, many E-Cigarette reviews show that the V2 menthol flavour is very popular.
Refills are relatively cheap keeping running costs down, and with the e-liquid option you can save even more. For the purist, they also offer their 'Ex Blanks' cartridges which are a straight forward clear mini tank system that you can simply fill using any e-liquid. Coupled with their high power battery (we like the black battery with this option) you can vape all day effortlessly.
Vapour2 Technology
First of all, in the early days, poor quality batteries forced the market to introduce the oversized and rather clumsy 'mod' or ego type electronic cigarette – V2 technology allows for an equally powerful battery in a neat and tidy design. V2 e-Cigs are much closer to the feel of normal smoking which is important when starting out in particular – something vital that 'mods' are lacking.
Quitting or reducing the smoking habit needs a practical solution to make it as easy as possible. Because the standard V2 Cig weighs less than the average packet of cigarettes, with even lighter options available, this is an ideal solution. Some review sites show the new Innokin Cool Fire 4 ranks well in the larger size e-cigarette/mod category, but this weighs over five times more than a normal packet of cigarettes, making it a cumbersome option.
V2, now V2 in the UK and EU, has a new designer range called the Ex-Series which uses a unique new patented refill technology that ensures a clean vape with no burnt after taste'.
It includes a carbon fibre look battery that doesn't light up at the end like most other cig-a-likes. Furthermore, the Ex-Series comes in both automatic and manual options. Automatic means you can just inhale and vapour is produced, with the manual option you press a micro-switch each time you want to inhale. V2 have also introduced a selected range of the best vapes from other manufacturers like Smok, Innokin and Hangsen increasing choice with an alternative range of advanced small scale vape pens, vape pods and other vape devices.
V2's quality products and continual innovation secures their position as the best vape brand.
There is a reason why V2 are the #1 e-cigarette*.
The following vape devices are all excellent products. Making a decision as to which one is best will come down to your personal choice and should be based on whether you are a heavy smoker or more moderate smoker and what size of vape device you like. The order they are in is less important.
#2. Ripstick next generation vaping at a glance:
Basic Kit Price: £16.99-£27.95
Number of flavours: 6
Battery Price: £16.99
Max. Battery Spec: 3.8 V, 500 mAh
Refill Price: £3.20 (based on a pack of 5)
The Ripstick is the next generation in vaping. Up to now e liquids have always used nicotine extracted from tobacco, the by-product of this process contain unwanted impurities like benzoic acid. The tobacco method of extraction also limits nicotine density which affects speed of nicotine absorption, the hit. The Ripstick is optimised to be used with NicTech vape liquid which uses nicotine that is NOT extracted from tobacco (TFN).
The driving force behind any vape product is the e liquid and NicTech e liquid is unique. Ergonomics are good with a a small comfortable feel. Combined with its size and use of NicTech this also makes the Ripstick a unique vape. If you are looking for the best alternative and want to be tobacco free then this is for you.
With new vape technology and a 500 mAh battery the Ripstick is definitely fit for purpose and will not disappoint. For those wanting a modern look and feel next gen vape product the Ripstick is something you must consider.
Read More about the Ripstick >>
Visit the Riptide Ripstick Product Range
#3. iq Air vape pod at a glance:
Basic Kit Price: £19.95
Number of flavours: 5
Battery Price: £12.00
Max. Battery Spec: 3.8 V 200 mAh
Refill Price: £5.94 per 3 pack
Vsavi is an established UK e liquid and vape brand known for their high quality 100% VG e liquid. Vsavi also research they vape market and select a fine range of what they consider the best vape products available from other providers brands like Vype, Smok, Vapour2 and Innokin. There are literally hundreds if not thousands of various devices which can lead to confusion, Vsavi simplifies and select the best devices in each class and markets these. This translates to a highly focused range of "current" top quality vape products. One such product is the very new-gen iQ Air.

iQ Air from Vsavi
The iQ Air is manufactured by the leading Hangsen brand and represents their flagship slim or flat vape pod system. Because of their small scale and ease of use, vape pod devices are popular. Consequently, they are also very discreet.
The iQ Air is an excellent quality and highly rated vape product and comes in two kit forms, the iQ Air Device kit and Vsavi also offer the iQ Air Full Vape kit.
Which iQ Kit to buy
Finally, with most small scale devices like the Juul, the battery and e liquid tanks are tiny so will not last the day. In contrast the iQ has a 30% larger capacity, for moderate to heavier smokers the full kit is the one you need. First of all, it offers two vape pod devices, two USB charge devices for home and office and 5 pod refills which will last most moderate smokers a full week. You will never be left stranded watching your vape pod being charged and gasping!! Alternatively see the iQ Touch below.
Visit the iQ Air Product Range
#4. iQ Touch at a glance:
Basic Kit Price: £19.99
Number of flavours: Open System
Battery Price: £9.99
Max. Battery Spec: 2.8V, 3,0V, 3.3V: 450 mAh
Hangsen is one of the more established global vape brands and they offer a wide selection of e-cigarettes, vape mods and vape pens. Hangsen are renowned for their innovation and have a vast product range. The iQ Touch represents their 2023 flagship vape pod.
iQ Touch
The iQ Touch vape pod kit is a great little hi-tech intelligent vape device! An excellent quality product with variable voltage which brings an added dimension to small scale vape pod systems. The variable voltage allows you to optimise vaping to your specific vape style and e liquid. Different e-liquids require differing temperatures based on their ingredients such as the PG/VG ratio.
Power levels can be checked with a touch of a button while the 450 mAh powered battery is highly rated for such a small device. The system is draw-activated so you can vape straight out of the box without having to go through any learning curve. The top-fill system allows for no-mess filling and with its light weight, great feel and looks make this a top contender on your shopping list.
Read our full iQ Touch review>>
#5. Smok Nord at a glance:
Kit Price: £29.99
Number of flavours:  Use any e liquid or nic salts
Output: 5-80W
Max. Battery Spec: 2000mAh
Pod Price: 3 pack :£7.99
PCC option: No
The Smok Nord 4 is the classic compact pod shape we've come to expect from this popular brand. Like the Nord 2 and Nord X, the Nord 4 works with a choice of 2 pods and coils giving you the option to personalise your vape experience and switch between MTL and DTL inhalation.
The Nord adds more highlights: 0.69inch OLED screen, increased capacity to 2000mAh, charging display interface, adjustable wattage, and multiple protection. The latest model also features an air inlet on either side which can be rotated for adjustable airflow. The OLED screen indicates the battery level, current wattage and records your puff count.
View Full Nord 4 Product Details>>
Read the full Nord 4 review>>.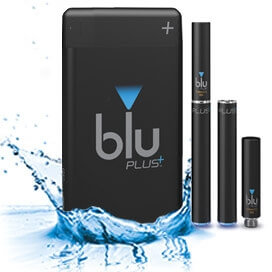 #6. blu at a glance:
Kit Price: £14.99
Number of flavours:  1 tobacco flavour
Battery Price: £12.99
Max. Battery Spec: PRO 1100mHa
Refill Price: No refills, bottled e liquid only £3.99/10ml
PCC option: No
blu sells three products, the blu PLUS+ Kit, the blu PRO kit and a disposable device – the blu GO. The Plus+ kit comes in two kits – one with a portable charger and the other without.
The basic blu Pro electronic cigarette starter kit will cater for the majority of lighter smokers but the throat hit is not as good as V2 or Jac Vapour. Read the full blu reviews here.
It's important to note that whilst blu is a good product, some vapers have commented on the slightly louder than usual air intake sound when vaping – this is not as loud as the Vype or South Beach equivalent products but it is still very noticeable. Imported generic devices will have their faults and also tend to be lower grade quality. Blu has drawbacks but offer a quality well made product. With only one tobacco e liquid with a maximum strength of 1.6% vaping is limited to lighter smokers.
See our UK vape pod review if you want to know more about buying a Pod vape system like the Ripstick, Wee VIM, Innokin EQ Pod or Juul.
Say Hello to the New Ex Batteries – The V2 You Know Multiplied by WOW.
---
A last word on fuel for your e-cigarette, vape juice & e Liquids.
The e-cig market is not fully as yet fully regulated so you need to be a little cautious about what you buy to ensure you only vape safe, tested ingredients. Most UK review sites or vape comparison sites don't highlight this significant issue enough but there are many reports available that demonstrate the large disparities between ingredients used by e-juice manufacturers. Not to mention the lack of policing on imported goods and cheap e liquids available on the web.
The vast majority of UK electronic cigarette components are sourced from China and then re-branded. It is important that reputable companies ensure quality control and that they use good quality components. Unfortunately, in order to maximize profits, many don't do this.
By 'reviewing the review sites' we ensure that only reliable e-cigarette product providers are featured on this site to allow you to find the best e-cigarette or vape pen to suit you. For details of how we do our calculations. see the calculations page.
Note: There was a big change in e cigarette regulation in 2016 when the UK Government intervened to regulate e-cigarette products and TPD regulation is now incorporated into UK law as of May 2017.
TPD Regulations.
The Tobacco Product Directive (TPD) regulations go some way to addressing compliance but more is needed. Do not put your health at risk. The difference between first rate e-juice and cheaper options which could contain untested ingredients are significant.
The composition of many e-liquids is often not precisely stated. Many are expressed in vague terms such as 'vegetable flavouring', which could mean many things. As the Karger medical publication states, "some artificial flavorings have been shown to be cytotoxic", meaning they are toxic to our body's cells.
The Karger medical publication states:
"Their nature is generally not specified other than in imprecise terms like 'vegetable flavoring',… some artificial flavorings have been shown to be cytotoxic."
Many e-cigarette companies are now beginning to understand that customers want pure e-liquids with known, safe ingredients. Some have now introduced laboratory testing and use only medical grade e-liquids. We only recommend using companies which do so to avoid as much risk as possible when vaping.
See the best vape pen UK review summary - includes best dry herb and wax personal vaporizers.
#e cigarette reviews UK | helping you find the best of the best vape and e cigarette in the UK, Shisha Pens and Vaporizer pens.
* As ranked by Alexa.com
Each cart is 1-1.5 packs – claimed.
Prices as at 2 October 2023.
These vape reviews includes some personal view points on the best electronic cigarette UK. The UK's Sale of Goods Act protects

UK consumer rights.