This Electronic cigarette review page looks at the facts regarding ongoing running costs of the best e-cigarettes UK as a guide to find your perfect e-cigarette or vapour cigarette. Also what you are getting for your money. In this electronic cigarette review section we will be primarily looking at the the best e-liquids and refills of popular e-cigs. i.e. the cartomizers – a best E-liquid review. What is the best e-liquid UK brand available? What brands offer gourmet e liquids in the UK? Is there such a thing as good cheap e-liquid or do have to you pay for quality? What if you have a bad reaction or allergy to PG e-liquids?
For vapers who only want e liquid rather than e liquid cartridges a see here for a full review of the best e liquids in the UK
We will review the e-liquid ingredients of your refills and their on-going running costs. What is the cost to your health when using an e-cigarette with unknown e juice ingredients? Spending a little time here will ensure you find the best e-liquid for your health & vaping enjoyment. See summary e-cig reviews here
The vast majority of E-Cigarettes are manufactured in China and currently there is no detailed legislation that ensures the quality or ingredients of the e-liquids that are used to fill the cartomizors on e-cigarettes that end up on our shores. The TPD made a start to regulating the e cigarette market early 2017. Many e-cigarette reviews over look the e-liquid issue. It is important to anyone's health that they understand what it is they are inhaling. When using an E-Cig you are ingesting an e-vapour into your lungs that affects you. When choosing or reviewing the best e-cigarette the ingredients of that e-liquid, ie. what is in the vapour should be a significant factor.
Summary. E-liquid review.
It is clear that the management at V2 e-Cigs sees the quality and purity of their e-liquids as a priority – the e-cigarette reviews here show they are the only company to give full independent laboratory analysis on their e-liquids, vape juices and refill content using only pharmaceutical grade ingredients. Another example, Vype electronic cigarettes make it clear that they use pharmaceutical grade nicotine – but at a very high price! Indeed many Vype vape pen stockists are pharmacies too – shows you the PR muscle flexed by BAT who own Vype!  On a cost analysis basis however, V2 e-Cigs work out to be one of the best value for money "clean" quality eLiquids in the UK market. From other sections on this review site and many other e-cigarette reviews, V2 e-cigarettes can be seen to score highly in all major areas. For the best VG e-liquid visit Pure Gourmet E Liquids. However this e-cigarette review analysis also goes to show that there is a lot of marketing hype that goes with some "other" e-cigarettes and perhaps some companies should spend more on the quality of their product than they do on the marketing of their product.  It should be about Quality – Ingredients – Cost. (QIC)
Summary review: Gourmet e liquid and vape juice
Results Table showing popular E-Cigarette UK brands: value for money and the manufacturers own description of their e-liquid ingredients and content.
E Cig Brand
Vype
Green Smoke
Logic Vapes
V2 Cigs
Refill Weight Full (g)
2.5
5.1
5.9
5.1
Refill Weight Used (g)
2.1
4.2
4.9
4.1
E-Liquid content per refill Used (g)
0.4
0.9
1.0
1.0
Number of Puffs
75
126
138
147
Cigarettes per refill:
Equivalent.
11
18
20
21
Price per refill
£1.97
£2.05
£3.49
£1.75
E-Liquid Quality
"Classic variant... contains only 3 ingredients: pharmaceutical-grade nicotine, glycerol and purified water."
"Primarily purified water, nicotine, propylene glycol and flavour" MSDS test shows 16 chemicals.
"The base liquid in e-cigarette cartridges is a mixture of liquid nicotine, tobacco extract flavourings and propylene glycol"
"Cartridges contain 3 primary ingredients, nicotine, food grade flavorings (FDA approved) and propylene glycol." Full on-line lab. report on all e-liquids and refills.
Cost per 20 cigarettes:
Equivalent.
£2.73
£2.30
£3.60
£1.80
QIC Rating:
E Cig running costs
On 20 cigarettes per day equivalent; one of the most expensive, Vype e-cigarette works out to be £339 more per year than the least expensive e-cigarette. (£996 p.a compared with £657 p.a). E-Lites (now Logic Vapes) are over £1200, over double the price!
Not only do Vapour2/V2 refill cartridges last longer they are considerably better value for money.
E Liquid & refill costs
Although the main cost may appear to be the price of the initial e-cigarette kit you are purchasing, it is the cost of the liquid refills that over time will become the most expensive aspect of using your e-cigarette. When looking at or reviewing the cost of getting the best e-cigarette available it is important to know what you will get out of a refill, what is in a refill and how much it costs! Cost is money related but also there may be a health cost that should not be overlooked. The majority of e-cigarette sellers and e-cigarette reviews do not explicitly state what goes into your e-cigarette and this review will look at this aspect along with the financial cost. Broad terms describing e-liquid ingredients like  "Primarily" and "Flavourings" are not particularly helpful.
Best e liquid UK review – Purity & safety?
A typical UK e-cigarette company may make a broad statement such as "The liquid in e-cigarette cartomizors is primarily a mixture of nicotine, tobacco extract flavouring, propylene glycol, natural and artificial flavourings." This does not tell you the exact ingredients. In this example the e cig manufacturer states "primarily" – what else besides the prime ingredients does it contain, what is in the artificial flavourings, are they UK or USA (FDA) approved, are they fit for human consumption, what are the long term health issues in using these ingredients? Use only gourmet e liquid, tested and manufactured in labs. See the full range of eLiquid flavours including Shisha e-Liquid range here.
Currently no one is overseeing the safety of e-liquids we are inhaling. Legislation is now in place as at 2017, however this covers pretty basic requirements. Longer term I trust this legislation will ensure broad statements about the e-liquid content and ingredients can not be made. That full disclosure is given as is generally required on anything we consume. In an ideal world for best practice, each e-liquid and e juice flavour and batch should be laboratory tested for its ingredients and purity. See the V2 E-Liquid range. If you require the best Vegetable Glycerine or pure VG E-Liquid then visit Pure E-liquids who offer a range of gourmet e liquid in the UK and properly tested 100% VG E-Liquids. Some vapers may suffer from a PG allergy, a bad reaction to propylene glycol based e liquid. If you are one of these people then you need to use a clean pure VG e liquid. For the review on the best e liquid available check out our gourmet e liquid review guide.
Best PG e-Liquid.                                      Best VG e-Liquid.
The next issue under review is cost of buying your e-cigarette refill. Cost is relative and consists of the price you pay for the refills and how many cigarettes the refill is equivalent to. See table above.
There are not many good e-liquid stockists who have the capabilities to produce quality exclusive e-liquids and many may not be aware of the regulatory or safety requirements. The majority of e-liquid sellers import or resell diluted, generic flavoured low grade e-fluid – Many stores, on line shops and market traders sold untested e-juice. Only vape with tested gourmet e liquids. For Q&A section see our best e liquid UK Guide. What are you inhaling?

Something to go with your e-Juice! Best vapes for 2020: Summary
V2 Review. On the vast majority of the review sites analysed V2 scored highly and is shown to be head and shoulders above the competition – scoring an exceptional 56 points where second scored 28 points. See all review sites calculations. V2 is the number 1 on-line USA e-cigarette company now in the UK, are well placed to take advantage of future legislation as their product offers top of the range quality. Importantly their e-liquids contain no impurities and your e-liquid from V2 is lab tested – a full lab report is available on-line for every batch of e-liquid that gives full details of ingredients. A solid proper e cigarette product with an extensive range of choices to suit beginner to advanced vapers. Just check out their iQ One vape!
Their introductory express kit is a steal at £19.99 and will help get you started on a low budget!………..Visit their site or read the full V2 Cigs Review
---
2nd Place: Hangsen iQ One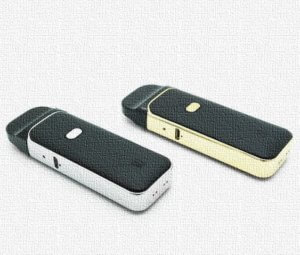 With its sub ohm functionality you get an extremely satisfying vape, dense vapour and real flavour that you didn't know your e juice had. Its not just the functionality that we can rave about, the build quality is phenomenal. This vape pod ticks all the boxes for those vapers who demand a solid reliable vape pod system. The gold silver or coloured embellishment and leather feel exterior is not only pleasing to the eye but it feels great in the hand. If you want something that vapes all day and have transitioned from smoking to vaping using our #1 e cig then this is the vape for you.
---
3rd Place: Jac Vapour e cigs
Jac Vapour offer a range of e cigarette and vape products. With a score of 28 across all the review sites Jac Vapour has done well – but there is a significant difference compared to #1. The V1P is their best offering according to a number of vape review sites we analysed. A small scale well made product offering various accessories and for those wanting to charge their batteries on the go Jac Vapour like Vapour2 offer a quality charging case that can be used to charge your e cig literally anywhere.
Read the Full Jac Vapour Review
---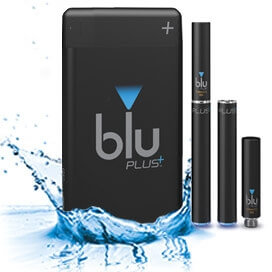 Another good solid product from the USA from blu e cigs that is now available in the UK. This basic electronic cigarette starter kit will cater for the majority of lighter smokers but throat hit not as good as V2 or Jac Vapour. Whilst blu is a good product a number of users have commented on the slightly louder than usual air intake sound when vaping. Imported generic e cigs have their faults and also tend to be lower grade quality, blu has drawbacks but offer a quality well made product. At £6.99/2 pack – refills are the most expensive here.
Visit their site or read the full blu Pro Review
---
Learn about VIP e cig reviews, SkyCig, the Vype ePen and other e cigarette providers with big marketing budgets – do their e cigs match up to their advertising and marketing budgets?
The puff test is based on the same person, not a mechanical device, testing each e-cigarette for a full day. A cigarette lasts 7 puffs for this individual – it does not seem a lot but test it yourself. See here for refill costs. Vapour production on Green Smoke and V2 Cigs e-cigarette is significantly greater than the other e-cigs tested. E-Lites (Logic Vapes) gave almost no throat hit. ie. the feeling one gets when smoking.
The Best E-cigarette and UK vape reviews
Vype and other big budget e cigarette companies spend millions on marketing, do their e cigs match their marketing? See the VIP e cig review.
blu e cig, Vype, Logic Vapes/E-Lites, Nicolites, VIP e cigs now owned by VYPE all have different costs and can tick certain boxes – see the review comparison chart table of some of the more important aspects of some well marketed or better known e cigarettes.
Disclaimer: The views and opinions expressed in this and other articles on the site are those of the authors and do not necessarily reflect the results of other smokers.
Examples, weights, measurements and other analysis performed within this article are only examples of our results.
They should not be utilised in real-world as they are based only on very limited testing of a small selection of products from each brand. Prices as of January 2020.
Assumptions made within the review analysis are not necessarily reflective of all the brands listed and we suggest you conduct your own analysis and compare the results with our findings. Not everyone inhales the same amount when vaping.