Narrowing down what is the best vape pen available is not as straightforward as you may think. Some consider the shisha pen as a vape pen, whereas some think of a vape pen as an e-cigarette and others a vaporizer device for vaping herbs or tobacco with. We have fully covered the best shisha pen in the Shisha Pen Review section and the top vaporizer brands in the Vaporizer Review section of this site. Reviews of larger vape devices for e liquid, dry herb or tobacco are also available.
Finding the best vape pen for 2021 – your ultimate UK guide
Firstly, you need to consider what it is you want to vape with your pen. E-liquid, tobacco, dry herbs, aromatherapy blends or even weed or wax concentrates? In this section we review vape pens aimed primarily at those who want to use e liquid, however, we also consider vape pen devices for other popular vape materials. We also take a look at the issue of their relative size.
For our purposes here a vape pen is a smaller pen style e cigarette device that can be used for vaping e liquid, however some vape devices offer the versatility to vape other mediums apart from just vape juice allowing the user to use just one device for all their vaping needs. This not only saves money but is far more convenient than carrying several devices.
In this section of the review site we summarise the best of the best and give you a condensed version of what's happening out there in 2021 regarding vaping. Full reviews can be accessed from here
It must be pointed out that there are certain vape pen attachments/coils in the UK that can be used with e cigarette batteries that state they vaporize the medium but in actual fact they use combustion to burn the material. For example the "Yocan 94F vaporizer" uses combustion and not vaporization. Make sure you know the difference! Your health is at risk. See the Vaporization VS. Combustion information below.
BEST VAPE PEN Summary Table
Vapour2 Slim Vape pen & Shisha Pen | From £24.95 -

8.9/10

V2 Pro S. 3 | From £59.99 -

9.3/10

Ripstick from Riptide £19.99 -

8.9/10

Xeo Void | From £39.99 -

8.8/10
Best Vape Pen UK Review
For its shear power and portability the Vapour2 Slim Vape pen (or Shisha Pen) wins for those wanting to vape e-Liquid (and wax, oil or similar concentrates if desired). A high quality UK vape pen for your every day vaping needs in a small form that works. For those who prefer convenience, pre-filled pod carts are also available.
For versatility ie vaping eLiquid wax/oil and loose leaf/dry herb, size, innovation and vapour production ability it has to go to the Pro Series-3 Vaporizer Pen.
If you are looking for a modern next generation vape device or like the idea of tobacco free nicotine e liquid then look no further than the Ripstick.
Also check Out the full Xeo Void full review here
Our List of the Best Vape Pens in the UK
---
#1 The Pro 3X Small Scale Vaporizer
This modern advanced small scale vaporizer packs the most up-to-date e-cig technology
into a small vaporizer. The V2 Pro 3X vape pen has variable voltage settings, which means that you can adjust the temperature and hence the amount of vapour produced. This will obviously increase and decrease the nicotine hit based on your preference.
Update: February 2021. Due to demand the Pro 3 is currently out of stock. We are advised that a new dedicated and upgraded Pro 3 will be back on the shelves start of Q2.
Our top pick at the moment in this style with similar score (86.3% versus the Pro at 90%) is the German designed Xeo Void here
The Pro 3X was designed for anyone who vapes, it has the functionality to suit exactly what you want it to do. There are 3 separate and different cartridge options and you can decide which you require when you buy the Pro 3X. You simply drop the desired cartridge into the pen and it connects magnetically. The Pro 3 then automatically detects which cartridge is being used and optimises settings to suit. You can select any of e-liquid, tobacco or dry herb and wax cartridges or any combination.
It might sound a bit complicated buy it is not, like an electronic screw driver, you simply select which tool to attach based on your requirements.
However for new vapers requiring e liquid only the slimmer vape pen below is probably a better solution as the 3X offers additional functionality including the ability to vape using dry leaf which may not be required. The 3X vaporizes and does not burn like "smoking", you can use actual tobacco leaf or dry herb using the appropriate cartridge, so you avoid all the tar, CO2 and nasty chemicals associated with smoking. Of course the 3X is also excellent with e liquid.
The new Pro 3X includes a variety of brand new functionality for an ultimate vaping experience. With the magnetic design which adds a degree of ease of use and no leaks the new product incorporates a significant number of additional features including ceramic"stove" for a cleaner purer vape experience and new interchangeable coil atomizers so that you can use the same cartridge with different or replacement coils. 0.9 sub ohm, 1.2 ohm and 1.5 ohm. Sub ohm functionality boosts vapour production.
The advanced cartridge system features an all new hyper-efficient heating element. It clicks securely into place with magnets – no threading no leaks. And under the hood is an ingenious battery with power that defies its size. Every component designed and optimised for high performance. No other e-cigarette has packed this much technology into such a small package – see the full Pro 3 X Review Here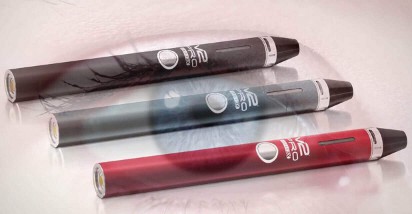 The Evolution of a Revolution: Pro Series 3X
---
#2 V2 Slim Vape Pen & Shisha Pen by Vapour2
This e cigarette or vape pen is simply the best e liquid vape kit you can buy to help you to stop smoking. It is essentially a small cigarette-like vape kit which is extremely reliable and properly made. It is straightforward, no complex screens or buttons, just simple and very very effective.
It is similar in size to a standard cigarette and therefore makes the transition from smoking to vaping so much easier than trying to use a larger device, which will feel awkward.
Boasting a huge 4.2 Volts packed into a relatively tiny battery with an e-liquid-tank attached. This e cig vape device produces good volumes of vapour, sufficient for the vast majority of us and has a great throat hit. This e-liquid kit scores highly as a result of its small, sleek, lightweight, simple and very very practical nature.
The refill/mini-tank holds 1.0 ml of e-liquid or CBD vape oil, equivalent to approximately 15-20 cigarettes. Its simple design ensures no replacement of parts or seals are needed so no leaks. This is also our favourite CBD vape pen which we highlight in our best CBD pen review.
The range of Vapour2 UK products also allows vapers a full vaping experience. There are tanks for e-liquid users (called Ex-Blanks) designed for both new users and those who have been vaping for some time. There are also separate tanks if you vape wax/oils/CBD. The whole system is modular meaning you can interchange any of their tanks with any of their batteries so that you get the best vaping experience for your specific needs.
Alternatively, and recommended for those new to vaping, you may want to use the straight forward pre-filled cartridge vape pen version.
This vape pen comes in various colours including black, blue, pink and white, it also comes in various lengths to suit every vape need whether you are a heavy or light user. The full vape pen kit will last all day and all night! Check out the Ex-Series kits too.
For those with a specific medical vaporizer need. The V2 vape pen range is without doubt the best medical marijuana wax concentrate vape pen in the UK for a small scale device.* I know of no other effective vaporizer this size that you can vaporise wax – a must for those who vaporise wax for medical purpose and want a small vape pen. Make sure you use the dedicated wax cartridge and use as prescribed.
This is my top choice vape pen for when you are out and about and want something easy and discreet. Pocket or purse perfect – used with V2 lab. tested e-liquid this represents about the safest vape pen out there.
Used for e-liquids and wax/oils. Separate cartridge refills

        Or take a look at the V2 Pro Vaporizer
---
Joint #2 Ripstick, next generation vaping
For those wanting a modern look and feel next gen vape product the Ripstick is something you must consider. Unlike the slim vape pen above the Ripstick do not have the feel of a cigarette but are extremely light and small.
The Ripstick is the next generation in vaping. Up to now e liquids have always used nicotine extracted from tobacco, the byproduct of this process contain unwanted impurities like benzoic acid. The tobacco method of extraction also limits nicotine density which affects speed of nicotine absorption, the hit. The Ripstick is optimised to be used with NicTech vape liquid which uses nicotine that is NOT extracted from tobacco (TFN). The driving force behind any vape product is the e liquid and NicTech e liquid is unique. Ergonomics are good with a a small comfortable feel. Combined with its size and use of NicTech this also makes the Ripstick a unique vape. If you are looking for the best alternative and want to be tobacco free then this is for you.

---
#3 Hangsen iQ One Pod
The iQ one is not exactly pen shaped but it deserves a mention here because it is an extremely well made small scale vape device. Unlike most pod devices the iQ allows you the freedom to use your own e liquid AND nic salts too.
Sporting an 1100 mAh battery this will last you all day. It is also clear the device's look and feel was a key focus point for the development team. The leather exterior and gold, silver or coloured embellishment is not only pleasing on the eye but it feels great in the hand. It is a lightweight device but it doesn't feel as flimsy as some of the other pods on the market – you don't feel as though you'll accidentally leave it somewhere or that you'll drop it without noticing.
The iQ One really is suitable for a huge range of vapers. If you're a beginner and want something discreet with high build quality, it's ideal. However, if you have been vaping for a while and want more vapour (the iQ has sub ohm options) then the iQ will not let you down. It is a new-gen vape mod-pod! With leather feel and solid stainless steel, at under £30 you have an absolute bargain.
The iQ comes with standard 2 ml tank but also has 2 coil types. Depending on your e liquid, you select the appropriate coil. Use the 0.8 ohm for higher VG e liquids or nic salts and the 0.6 ohm coil for higher PG e liquids. Both coils are sub ohm so you get excellent vapour thickness and powerful flavours from you favourite juice.
Read the iQ One full review >>

---
#4 V2 Pro: Series 3 Vaporizer

Reviewing e-cigarettes means you come across all shapes and sizes of vape pens and e-cigs. But nothing prepares you for the V2 Pro S3 Vape Pen. It is a total rethink! Looking at the many best vaporizer reviews in the UK shows that it is a different animal.
The Pro S3 is at the cutting edge of e cigarette design and technology, with its ability to combine with 3 different cartridges this e-cigarette actually thinks for itself – first it detects which medium you are vaping – automatically, then it sets the temperature to the optimum temperature of the material you are vaping – automatically.
It is a 3-in-1 vape pen allowing the user to vape tobacco, loose leaf dry herb, wax and oils and then of course e-liquid. No replacement coils or seals in the cartridge means no leaks.
To charge – simply click in the magneto-lock USB charger and you are good to go – vape while you are waiting. Nothing to screw on or off eliminating leaking.
Or check out the new V2 Pro 3X sub ohm vaporizer review
The cartridges don't screw in like all the rest of the vape pens on the market – again they are magnetic, simply drop in for a secure fix! This unit is 650 mAh so gives all day and night vaping. It is smaller, neater and lighter than the JacV Series-E. For full & tech details go here
Ideal for e-liquids and low intensity dry herb/wax use. Full review here.
Gizmodo rates it as best vape pen for under $150…going on to say a high-quality, versatile, portable vape that won't cost you an arm or a leg (or a lung)….Less than a second, your mouth fills with thick piles of vapor—it's crazy, you don't even need to inhale. The thing produces so much vapor….quality and performance of the V2 Pro Series 3, especially at a $60 price point, is unmatched.

At this price you are getting the perfect e-liquid e cigarette AND also a great dry herb vaporiser
Best used for e-liquids, vaporizing wax/oils and loose leaf


---
#5 Jack Vapour Series-E Vaporizer Pen
The Series-E Aero looks like many of the generic vape pens out there, however it is of a good
build quality.
Sporting 1000 mAh battery this will last you all day and some. It is a short and very stocky design in stainless steel finish and fits well in you hand however it is significantly heavier than the mini-tank and holds 2.5 ml of liquid. To fit a 1000 mAh battery means a big diameter.
The AERO tank is heavy, good quality and comes with 2 replacement coils and is relatively easy to assemble and re-assemble when replacing coils, tubes or seals/O-rings.
This can tend to get a little messy though as with all vape pen and vaporizer devices that require the user to replace worn out internal parts. In addition there is a higher risk of leaks as there are a number of separate parts. Replacing the Aero tank is also expensive at around £19.00.
This is a variable voltage e-cigarette controlled by clicking the side button which can be varied in 3 stages 3.7, 4.2 and 4.8 volts. The Series-E is limited to e-liquid only and produces good volumes of vapour and associated throat hit. An ideal device until the Pro Series 3 crashed the party.
Used for e-liquids only
---
V2 Pro Redefines the Vaporiser Category from Vapour2/V2
Discover the new standard in personal vaporisers and vape pens. The V2 Pro Range offers a range of options at an incredible value. With cartridges capable of vaporising liquid, essential oils, wax and loose-leaf products, V2 Pro 3, Pro 3X and Pro 7 deliver vaping options and performance unmatched by any other vaporiser on the UK market. The Pro 3 is simply the best smaller scale vaporiser in the UK. Go Vape V2!
For more dedicated herb vaporizers and larger vape pens see our V2 Pro 7 and Pax 2 Reviews.
Vaporization VS. Combustion
It is of significance that many vape pen sellers are marketing some of their devices as vaporizers, either the whole vape pen system or just the tank/cartomizers. Some of the vape pens are NOT vaporizers and merely heat up an element, not unlike the heating element of an electric fire, that simply "burns" the vaping material. This is NOT the same as vaporization. Not the ideal practice to vape using such a device! During burning or combustion a significant number of additional chemicals are produces as it is the same as smoking – the chemicals released from smoking are well known to cause smoking related death or disease. Vaporizing tobacco (and probably dry herb) has been recognised by Public Health England (PHE) to be considerably safer than "smoking" or burning tobacco/dry herb ie. combustion. Be clear!
Match your cigarette brand to an e-Liquid flavour – B&H Gold? Try Congress Flavour e-Liquid.
Best e cig review UK. See our detailed best e cigarette reviews here or check out our top pick for best e cig UK 2021 or find our best box mod UK review
Vape simple – Vape clean!
---
UK Vape Pens: Consumer Reviews
As part of the review process e cig consumer reviews and vape pen user reports are also invaluable sources of information on e cigarettes. Below are some actual e cig users sharing their vaping experiences about using the best vape devices available in the UK.
V2 Vapour2 Vape Reviews
Really Good Products 
Posted by "Ex-Smoker", 25th April
Just echoing what other reviewers have said; this is an excellent, well designed product. It's sturdy and works very well. I only started vaping 2 weeks ago. I had quit smoking for six years, after only smoking for 2 – 3 years. But then, about 2 months ago, I picked it up again and within 2 weeks I was a pack + a day smoker. I decided I didn't want to get hooked in that fashion again, because despite trying Allan Carr (which helped me quit the first time), nothing was seeming to stop the habit this time around. I decided I didn't want to smoke cigarettes, so started vaping. I bought a cheap, local shop item for 15 euros, the name of which I won't put here, but it was spitting liquid into my mouth all the time — very unpleasant.
This product is well worth the money, comes with a wall charger, and as other people have noted, you can vape while it's charging. The range of flavours is good, though so far I have only tried vanilla. It's construction is based on magnets, so each part fits well with the next….
Really Like 
Posted By Anne, 11th April
Really like this product. works very well flavour is very good, was easy to get started, like the size, and fits into my hand just right.
Great Vape 
Posted by Peter, 28th May. 
Have had several different models of e-cigs over the past few years but this brand is the best by far for the price.
The only reason I give a 4 star is the price of the batteries. Am on zero nicotine now and even though my wife still smokes I have managed over 2 yrs without a normal cig.
Thanks to using common sense the bad coughing and throat noises has gone. Really pleased.
One of the best on the Market 
Posted by John, 21st May
The pre-filled cartridges have a very good flavor unlike many other brands. The battery feels very good and the battery life is good. The best one I've had by far.
Great Product 
Posted by Clive, 14th May
This is my first time using an e-cig so can't compare it to any other brands. But I must say I find the V2 EX brilliant, started on the pre filled carts but found they didn't last very long. Now on the blanks and found they are much better and cheaper. I smoked golden Virginia hand rolling tobacco and found that mixing half congress and half red (1.8) hit the spot. I'm 50 years old and smoked for about 30 years, since I've been on the V2 EX I've had 6 roll ups in a week, and that's only because I had the tobacco in the house otherwise I wouldn't have bothered. Would highly recommend in trying it to anyone.
Excellent for a first time user 
Posted by Simon A,  October 
I have been a customer for approaching eight months, in that time I have always been very happy with not only the product on offer but also the level of service received.  Using V2cigs has enabled both me and my wife to quit regular cigarettes with very little hardship.  Although we have now found a flavour, method and strength we are both happy with there is plenty of choice on offer should we wish to change.  I have found them to be a more pleasurable replacement for cigarettes and will continue to use a service that is easy and reliable.
V2, Great job !  
Posted by Anonymous, October
I got the V2 Pro series 3 mainly to vape some herb without having to mix it with tobacco and it's perfect.
I also got the menthol 1.2 and red tobacco 1.8 and they're good too.
Ok, not the cheapest pen on the market but I wanted quality and that's what I got. Happy days :0)
Awesome Starter  
Posted by Luke, September
I've been using this vape for the past few months and, all in all, am quite pleased with most aspects of this model.
Battery life is the best of any vape I've used before, the tanks (though small) give a nice clarity to the taste of my chosen liquids and the design is rather snazzy and stealthy (I chose black, and the finish is awesome!)
The only con I can give is that the tanks are small, especially the loose leaf cartridge, but V2 have improved on this with their newer model – which I'm tempted to purchase, though the overall price is just outside of my range.
Well done, guys!
Red is the best 
Posted by Bruno, July
I started with the V2 Red, it really tastes like a good cigarette. It's a little weird at first, because you get the tobacco flavour complete with the nicotine hit but you don't get the after-taste and that burnt feeling on your tongue.
The hardest part of switching for me was getting used to not having that burnt tongue taste. Weird… It's like I forgot what it felt like to have a clean mouth, now I can't imagine having that awful cigarette breath again.
V2 Pro Series 3 Vaporizer Kit, Best Ever 
Posted by MD Hidur R, July
I have been using V2 for last 1 years now. i just get a new Pro S3. It's 100 times better than ex series. the quality of V2 pro is simply the best. deserve 5 star without question. hopping for long service. thanks to V2 for great product and customer service.
Perfect, well made 
Posted by Wayne H, July
Very impressed, as a heavy tobacco smoker for over 20 years I have not felt the need for a normal roll-up the e-liquid V2 Red is very good and the V2 pro 3 does hit the spot. Well recommended
Does what it says on the Tin!. 
Posted by Ming Y, May
Very impressed with the quality of the V2 pro 3, vapour throat hit and I haven't touch a cigarette for almost a month now! Even passed the alcohol infused outings no yearnings for them ! Top product and the V2 E liquid is of top quality, vapour and taste!
Finally off Tobacco for good !
V2 Shisha Pen – 
Posted by Lily, April 
It's now three weeks since I stopped smoking tobacco and it's all down to this shisha pen! It has a good throat hit, produces lots of vapour and is really smooth. The battery lasts me most of the day. I bought an express charger along with this and an extra battery so I'm not caught with a low battery. The Ex blanks seem to last around a week for me. I use it with vanilla liquid at medium strength and even after 20 odd years of smoking I can't imagine wanting a cigarette. I never thought I would write that sentence! Excellent product.
Quitting Smoking with the EX… 
V2 Cigs EX Starter Kit 
Posted by Fletch UK, April
Been three weeks… After smoking 30 years I bought the EX Starter kit… I started on the Carts, then moved onto the liquid refills…(Liquid congress 2.4 gives you a hit similar to a roll-up). They're very good, you'll be surprised. Don't get me wrong, still want a 'real' cigarette, but it's getting easier and I still haven't had one yet…
Give it a try…(Some of the flavoured liquids make a pleasant occasional change too). 
V2 Cigs Standard Starter Kit Review 
Posted by Rhodes, March
I will give you a little help here to those of you who find it hard to make the full transition to E-Cigs at the beginning.
First off, I recommend you buy the cartridge pack that contains 10 different flavours, those cartridges will give you insight on which flavours you will stick to for a long time (assuming you stick to E-Cigs for awhile).
There is one thing I found essential on giving up the regular tobacco and that is the unique flavours that V2cigs offer you, if you're like me you will want to make the switch to E-Cigs for the BONUS flavours "i.e anything but Red/Congress/Sahara which are based on regular tobacco flavours, making the transition simply for your health is harder in my opinion and I found that having a unique flavour along with the regular tobacco flavour (like Red/Congress/Sahara) will actually make you enjoy E-Cigs over cigarettes/tobacco.
Currently I use Red/Congress because of the familiar taste it has to Amber leaf tobacco and for a little treat the Vanilla or cherry cartridges. Automatic battery for the traditional tobacco flavoured cartridges and the manual battery for the "treat" flavoured cartridges so that I have 2 batteries at my disposal (in case I need to charge one).
How many flavours you want is up to you, you may prefer only one flavour, or a "treat" flavour alongside your regular tobacco taste flavour.
I felt compelled to write this review because I enjoyed the vanilla flavour so much that I actually wanted to smoke E-Cigs simply for the taste and not simply for my health, because of this I haven't smoked regular tobacco since day 1 of my attempt to make the transition to e-Cigs.
Good luck to all of you, e-Cigs have cleared my intense morning cough and i've only been on them for 2 weeks.
---
Jac Vapour Series E Vape Pen Reviews
Can't Fault it – by GTG, 10 November

First experience of an ECig, wish I switched ages ago

Save your money and buy elsewhere – by Chris, November

After reading many good reviews about the e series I decided to give it a try. Straight out of the box I was disappointed, various bits of packing were opened or torn, looked like id been sent another customers return. Neither of the 2 coils supplied in the starter kit worked at all, so tried the pt3-s coils, out of the 5 i ordered only 3 lasted more than a day. The e cig itself actually worked really well once id found a working coil, although this was short lived as after around 3 weeks of vaping im back to smoking cigarettes as both of the batteries supplied now only last for a few minutes when fully charged. Overall disappointed, costs as much if not more than other high end brands but lasts as long as cheap Chinese copies……………JAC Vapour Ltd: I'm sorry you had problems with the product, the PT3s coils are a Beta product and still in development, if you read the description it will explain, but they are by definition unreliable. Also your kit is still well within warranty, I would suggest you contact customer service and they'll either replace it or instruct you on how to use the product properly if needed.

Great product – by Kay, September

This is a great product, as soon as you pick it up you know it's of brilliant quality. Many people have asked where it is from which I could only oblige. JAC customer service is also second to none, I have had a couple of problems (all user error) which they have assisted with promptly. Do not hesitate in buying this item!

Best kit ever – by Paul, September

I've been a smoker for many years and tried vaping a couple of years ago with kit bought from a different supplier. The experience was not good and the supplier less than helpful, disappointing really as I'd spent a reasonable amount of my cash. After that I vowed never to vape again! Well, after doing extensive research and visiting the Jacvapour store in Leeds, I decided to take the plunge once more. The guys in this store are so helpful. Been using this kit now for a couple of weeks and have reduced my tobacco intake dramatically. With any luck it'll soon be 'vaping only' for me. Thanks Jacvapour.

Night and day – by Ronnie, September

I bought the series e-aero tank. In the short term it's great, I had previously bought a cheap stater pen kit from a higher street store and found I was using it a lot never really satisfying my need for "a smoke". The series e is night and day compared. Very smooth with great throat hit. And battery for me lasting 2 days cognates to just about 1 with my previous model. Need less liquid too as use it less as need for "a smoke" is satisfied. Liquids bought from Jacs vapour are real quality too. Only fault I can say was that the instructions on how to fill weren't great but worked it out, all in all a great buy.

No burnt nipples, so good I bought it twice – by Richard, September

Having tried e-cigarettes a number of years ago, I was very sceptical. I had the cigarette-a-like style with an automatic battery, apart from the entertainment of having 'burnt nipple' in the theatre (were I'd put them in my shirt pocket for storage), I'd not had much joy from them. I found myself supplementing them with normal cigarettes. Needless to say it was a fruitless exercise, I was still smoking. Last week I bought an e-series starter kit, with Aero tank, what a revelation. Immediately I found myself not smoking, I have spare 'emergency' cigarettes in the car glove-box, they are still there. Then after I a few days I discovered how to use it properly! I had been just pushing the button and inhaling, waiting a few seconds for the 'crackle' before inhaling is a whole new world. Today I bought another e-series starter kit – firstly for a spare tank, secondly to try new flavours, without the need to wash and wait for my tank to dry. I did a little research to end up here at Jac Vapour, I don't know whether it was more luck than judgement that I found something that suited me so well. All I can say it don't be put off by the heaps of jargon surrounding e-cigs these days, you will need a spare battery even though it lasts 1-2 days for me (I used to smoke 20-30 a day). I'd recommend giving it a go, then getting a spare tank, as to perform at its best you will need to clean the tank. You will also need spare coils as these are the parts that do the heating work and by all accounts they don't last that long, I bought five spares immediately. I guess liquids are a matter of preference, I started with Pure Menthol (I used to smoke menthol cigs), I've now ordered a taster kit and gambled on a large toffee! Only a week later I'm getting experimental, I've started mixing the menthol with some 'tobacco' flavour and managed to recreate pretty much the exact taste of my 'old' cigarettes. The only downside is size, they certainly aren't as convenient as cigarette style e-cigs, but if they perform their primary purpose, which is smoking cessation for me, then it something I'm willing to live with. Maybe in the future something with the performance of this kit in a cigarette style package will exist, but for now this is the kit for me!

Battery replacement required – by Kevin, September

Great quality product, prompt delivery and good value. The reason I can only give it 3 stars is due to that last point, which specifically related to the batteries which, while great and long lasting at the start, are now far from it. I purchased the SERIES-E Version 2 Aero Tank Starter Kit and a spare battery too – on 6th of June 2015, and less than 3 months on I am needing to have to replace the batteries as they are both close to death. I have to bring both (fully charged) with me if I am going out for the day and I am lucky if I am not out of power on both by the same night. I cannot vape in work and would not be a heavy user compared to some. The price of 2 new batteries would be £46, £4 less than buying an entire new starter kit which makes it seem prohibitively expensive. With a longer battery life I would be 100% be giving this a 5 star rating but unfortunately I may have to check out competing products in coming weeks due to this issue alone……..Hi Kevin, please contact support as they will replace the batteries if they are under performing, the batteries should last for around 6 months plus, even if your batteries are out of warranty, our service dept will still replace them if need be. I'll get them to contact you.

Great Upgrade – by GARY, September

Been a Jac customer for over 3 years now, and have just started using the 'E' series, my first manual fire vape pen as well, I must admit the auto is better when driving or when doing things with your hands, the ability to just put it in your mouth and vape but overall the 'E' with the aero tank is definitely the way forward, more vapour and that all important hit we as ex smokers get is by far the best i have experienced to date, was a bit worried about spending the extra money as it is a fair amount to spend on something you have not tried before, but i am more than happy with it and belief a saving will be made in the long term as the quality of this product is far far better than anything i have used to date. I was also a bit worried about variable voltage and adjustable air flow, but read the instructions first (i didn't) and it is so simple and great to have the ability to adjust to exactly what you want, i will be sticking to the 'E' for a while yet. my only thing would be to have an automatic fire, just because its easier, especially in the dark. Would recommend this to every vaper out there as a step up from your basic ecig and the definitive start for the next vap experience

Excellent – by Sean, August

Got through a lot of different vaporizers and this one blows them out of the water. The first go on it I noticed the taste was really bad and then realised that the light on the battery was white, which is the highest voltage. This was in fact burning the liquid as so powerful. So after reading the instructions and 3 clicks later I got it down to a lower voltage, which stops the burning and causes a perfect vape ! Adjust the air flow also helps fine tuning. Well happy and just ordered a second one as I like to leave one at work and one at home ! Fast delivery from JAC as well.

Not a great first experience – by Jon, August

I've been vaping on and off for a while now, but decided to go full time. Looking at various reviews this seemed a great kit to get and today it arrived. Unfortunately it leaked all of the fluid over my new settee! I pulled it apart and found part of the wick was caught in the glass tube causing the problem :/ After cleaning and rebuilding the thing, it worked perfectly and I'm very happy with the quality and the many adjustments to get the vape just right. Sadly I now have to buy another bottle of liquid and clean the mess off my sofa :( If it hadn't leaked, I'd give it a 5 star rating.

Great product and great service – by F, October

Bought the e series while it was out of stock and it was posted as soon as stock came in. The customer service was great, always happy to chat about when it would arrive etc and delivery was really quick Enjoying it so far with no issues at all. Recommend it to anyone

Great Vape – by Clifford, October

I was introduced to Vapes when I was with a colleague in Ibiza and since that day have not had a cigarette since, to my wife's delight. After a number of cheap vapes died I read about Jac in GQ Magazine and decided to invest in a serious bit of kit. To my delight this has been a serious bit of kit. Well recommended.

Excellent E-Smoke – by Bernard, September

I was a cartomiser vaper (JAC V3) for about 4 years. Was getting fed up of changing batteries and filling up the carts every 4 hours. For ages I had told myself I would never some one of those weird looking e-cigs that looked like an operating theatre hypodermic, but I looked at lots of YT videos and read about these powerful e-cigs and decided to take the plunge. I decided to stick with JAC Vapour because I knew I could continue to rely on their quality products and reliability of service. I experienced mixed first impressions; I could no longer keep my e-cig in my top shirt pocket because it's too big; having to press a button to vape took me back to my very first cartomiser e-cigs – but Wow! What a vape. A 2-second pull on this to create a wonderful throat hit would have required a long pull on my little e-cig. It's a little heavy at first yes but you get used to it. What surprised me was that 2 weeks in it was no longer packing the same punch and I was starting to feel disappointed. But I replaced the coil and all was well again. I hope a 2-week life is normal for a coil, if so, it's well worth stocking up on those. I still don't know my way around the workings of this, but I am managing to fill the tank well, I can change the coil and can charge/change the batteries. And the batteries last about 8-9 hours, and likewise a tank full will last most of the day! Overall I am delighted. What would I improve? I wish it was a little smaller and a little lighter. If you're switching from the little cartomiser e-cigs it is a huge size and weight difference, but the amazing advantages should compensate very nicely.

Amazing – by Darren, September

Not only has this product kept me off cigs. Since I received it .. It's keeping my sweet-tooth at bay too. With the many various flavours.. So no extra snacking to help with the cravings. Ordered another vape pen for my partner . As so impressed with the quality of products and the delivery So big thumbs up from me. Well done Jac Vapour

Bought Two! – by Monkers, September

I've been vaping for about two months now. I'm not smoking so it's working. My wife is doing the same. The original vape we got was cheap & it has become troublesome. We have a JAC retail up the road so went & chatted to Craig. He gave us all the info & she came out with the e series starter kit. After 3 or four days of using it all seemed to work better than the previous ones so I went & got one too. Feels like a quality vape product, great looking gadget & works a treat.

Fantastic – by David, September

What a device this is! The comments I get on how it looks! The feel in my hand! Absolutely love it well done.

At last, a Vape that satisfies – by Anita, September

I have been vaping for over a year now and was ready to pack it in. I wanted an e-cig that would satisfy me and give me a proper ' hit'. I was unsure whether to spend so much money on a new e-cig, but all the reviews hinted at a quality product with a good hit.

So I took the plunge and ordered the E Series Aero tank and a spare battery. The discount voucher I had, had expired but a new one was automatically applied. I waited with baited breathe for my kit to arrive. I am overjoyed as the kit does not disappoint. Excellent quality feel and a very satisfying hit. I am still experimenting with the voltage but seem to have settled on green. It is true that you get what you pay for, but in this case, I have definitely got a bargain as this looks, feels and works like a more expensive e-cig. I am satisfied at last and do not have to constantly puff on my new E-cig as it satisfies me like a cigarette would. I wish I had found this sooner as I have wasted a lot of money on cheaper alternatives that have not lived up to the marketing hype.
Review by Admin
*Disclaimer: We cannot and do not endorse the use or vaping cannabis for use
other than for medical reasons, or for use in countries where it is currently illegal.
Vape Pen User reviews from vendors sites.