The start of a new decade typically brings change and 2023 in the vaping industry is no different. What's interesting for those considering vaping as complete novices are the wide range of devices at your disposal. Because most in the vaping community are making the switch from smoking, with the UK government and different medical professionals also backing the move, that variety is a welcome change. However, a stumbling block for many is the sometimes confusing terminology. A good tip for beginners – stick with pod devices when you start vaping. But which do you even select? The best Pod kit for 2023 is a challenging task, but one we hope to answer.
However, first of all, you need to know what exactly a pod device is and why you should pick it. Generally, the big dilemma for vapers is first understanding and then choosing between pod or 'mod' devices. Once you discover the uses and benefits of pods, picking one is a much easier task.
Explaining What the Best Pod Kit for 2023 Looks Like
A pod is a device, slim in stature and simple in design that you can buy pre-filled with e-liquid. This can then be thrown away when done and simply pop in another. Alternatively, some vapers like to buy refillable pods which can be topped up or swapped with a compatible e-liquid. There are also hybrid vape pod devices like the Voom reviewed here that allow both methods. Most prefilled and refillable pods include coils already installed. Because you get a stronger nicotine strength from this smaller device, it's a great choice for smokers seeking a change in their lifestyle. Plus it's a great way to look at improving your overall health, which drastically changes after only a few days once you switch to vaping.
Key Considerations for Choosing the Perfect Pod
Beginners typically like to start off with a pod because it's a compact device. In comparison to the majority of mod devices, which often feature a larger tank, a pod reduces hassle. It also suits former smokers seeking a similar sensation. How do pod manufacturers tick the right boxes for beginner vapers?
Offer a compact pod, which ideally fits in the pocket

Resembles a cigarette in weight, length and even vapour production

Provide a throat hit similar to smoking, without the side effects

Easy to refill, or ready to go straight out of the box

Considerably cheaper than smoking
Meanwhile, advanced or avid vapers usually prefer the additional features with a mod device not on a pod. This could include a button to alter the wattage power or even a temperature gauge for your coil strength. These little differences help with vapour production, which is a big hit for avid vapers. 
What is the Best Pod Kit for 2023?
So now you know what a pod is and the advantages of choosing one instead of a mod, let's discover the best pods around. In 2023, you have a wide range of choices. Different designs, Sub-Ohm strengths and a lower price than mods too. This all depends on your personal preference, but we decided to compile a list of the top picks from the best brands.
VOOPOO Vmate Pod Kit
The perfect compact device for discreet mouth to lung vaping with a smooth but restrictive draw, using a 0.7 Ohm built-in coil. Puff away all day with the 900mAh battery. Exhale small amounts of vapour while carrying around a stylish slim device that easily fits in your hand. VOOPOO, which is a brand known for their innovative designs and intelligent pod systems created the VMate. Simplicity and functionality are what it delivers.
You can vape using the 0.7 Ohm coil (previously designed for the V Thru) or opt for the mouth to lung (MTL) 1.2 Ohm coil which gives out even less vapour for private vaping. The VMate offers a quality taste from a compact pod device because of the mesh build, which heats your e-liquid much quicker than normal for improved taste compared to standard MTL devices. Thanks to automatic activation, you can inhale easily on the go with convenience like you would a cigarette. There is no need to adjust settings on this pod.
SMOK G15 Pod Kit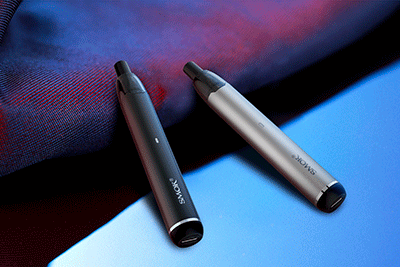 Safety, easy use, sleek and appealing to all vapers based on the cool appearance, the SMOK G15 Pod Kit is ideal for beginners, but can just as easily be picked up for all-day vaping. This is because of the 700mAh battery and appealing design features. For instance, you have the magnetic fit of the pods that come with the kit. These are easily removed so you can top up with e-liquid when needed. Plus, this mouth to lung device offers a nice throat hit and a quick draw for discreet vaping at all times.
A handy features for vapers is on the front of the device, with the LED indicator lighting up in four colours. The G15 flashes white when in use, green above 70% battery life. Orange is a mild warning that your battery is between 30% and 70%. Finally, you have the red LED indicator for below 30%, meaning find a charger as soon as possible! Build from aliminium alloy, it's sturdy and finished off with sandblasting oxidation to ensure less fingerprints on the device. The 0.8 Ohm coil gives just enough vapour for small clouds of vapour. Not too much and not too little either. For your safety – it's equipped with atomiser recognition. Additionally, there is lithium battery protection, short circuit and low voltage protection and an 8 second cut off feature.
RipTide RipStick
You don't get much more convenient than the RipStick as a great pod kit. An ergonomic pod that fits in your pocket, the design is effortless and adding e-liquids is simple. It also features a 1.4ml capacity and a 500 mAh battery. Plus, beginners will really appreciate the non-leak design feature, preventing a top-up disaster! You can find out how it compares to the iQ Air here.
iQ One Starter Kit
This fantastic pod kit needs little introduction. At an equally affordable price. You can get a stylish pod that looks and acts the part, with a gold trim and leather material around the edges. It's a lightweight device that's ideal for vaping on the go. Plus, it's a versatile device that works equally well as a mod, producing strong vapour clouds after a few tweaks.
While we love the RipStick and the iQ One, there are plenty of other quality pods which we recommend to our readers. Whether you seek a stylish pod that's perfect for heavier smokers, or just want a simple device. One that's easy to use and requires little attention. There is an ideal mod out there for every type of vaper. You can find the best of the rest here.