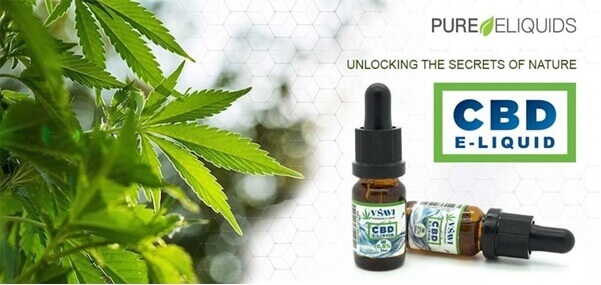 Vape CBD OIL | UK Reviews
Best CBD Vape Oil (Cannabidiol)
Vaping CBD oil is one of the best and most effective methods of consuming CBD oil. Vaping CBD e-liquid facilitates absorption directly into the body. Selecting the best CBD vape oil is important.  we help you make sure that you get it right.
Also see our guide on the best CBD vape pens where we review the UK's safest CBD pens and vaporizers (only use safe TPD UK compliant CBD devices when vaping your CBD e liquidl).
Here we review the best CBD vape oil for UK consumption
Recently due to significant media coverage many companies have rushed to put together a CBD vape oil offering, however a word of caution: this type of vaping oil production is not as yet regulated so it is imperative that you buy only pure clean pharmaceutical-grade products.
You also need to ensure that there are no artificial or added flavours as these contaminate the oil and ultimately, since you inhale the vapour produced from the oil, it needs to be pure. No artificial colour, aromas preservatives, only natural ingredients with no other allergens.
If you want a particular flavour use a couple of drops of clean zero mg nicotine e liquid. EU and UK nicotine e liquids are regulated under the TPD to ensure any additives are fit for human consumption – in particular via inhalation. Avoid CBD oil or e-liquids that contains a fruit or other flavoured base.
CBD Oil in the news
CBD was first isolated from cannabis by R. Adams in 1940. It has taken a long time but the scientific and medical community in general said recently that 2016 was the "year of CBD".
---
Update; On 10 November 2017 the World Health Organisation completed a Pre-Review Report On Cannabidoil (CBD). The Expert Committee on Drug Dependence stated in the report "…   CBD does not produce the effects that are typically seen with cannabinoids such as THC. It also failed to produce significant effects in a human study of abuse potential discussed below. Across a number of controlled and open label trials CBD of the potential therapeutic effects of CBD it is generally well tolerated, with a good safety profile. Clinical trials involving use of CBD for treatment of epilepsy will be discussed in Section 9…."
….. does not induce physical dependence and is "not associated with abuse potential."
….. "To date, there is no evidence of recreational use of CBD or any public health related problems associated with the use of pure CBD,"
…… "Several countries have modified their national controls to accommodate CBD as a medicinal product."
---
Strangely, the human body contains cannabinoid receptors that are specifically designed to process cannabinoids.
Now did you know that several major scientific studies have also shown that human breast milk naturally contains many cannabinoids found in marijuana which are vital for human development? The stories have been compelling, touching, sad and above all hopeful. Literally the Earth "has moved" and the world "has shaken". A host of States in the USA rushed to repeal laws banning the substance.
We have all had our preconceived ideas, opinions and beliefs shaken. Suddenly the subject is no longer taboo…we are openly discussing cannabis.
Late in 2016 an article published in the Independent reported the UK Government's MHRA's assessment on Cannabidiol (CBD)  could "provide ground-breaking results' in leading to reform over cannabis' medicinal use in the UK.
The Government's Medicines and Healthcare products Regulatory Agency (MHRA) Assessment 2016

:
'The MHRA has now completed it's review and has considered all information available to it relating to Cannabidiol (CBD) and having taken into account all the scientific advice and evidence, it has come to an opinion that products containing Cannabidiol will satisfy the second limb of the definition of a 'medicinal product' because it may be used by or administered to human beings either with a view to restoring, correcting or modifying physiological functions by exerting a pharmacological, immunological or metabolic action, or to making a medical diagnosis.'
The article was and is enlightening. The MHRA has found that CBD has a "restoring, correcting or modifying" effect on "physiological" functions.
Clinical trials have demonstrated the safety and efficacy of CBD which has helped people with a variety of illnesses. Our advice however, is that the strongest oil you should vape is no more than 300 mg strength.
CBD use in epilepsy
Australian researchers at The National Drug and Alcohol Research Centre stated it was "surprising that there has been no further research on the anti-convulsion properties of CBD, especially as it has no psychoactive side effects". A study "Hypnotic and anti-epileptic effects of cannabidiol" published in 1981 reported results from a randomised placebo-controlled trial (RCT) on 15 patients suffering from secondary generalised epilepsy:
"Fifteen patients suffering from secondary generalised epilepsy refractory to known anti-epileptic drugs received either 200 to 300 mg cannabidiol daily or placebo for as long as 4.5 months. Seven out of the eight epileptics receiving cannabidiol had improvement of their disease state, whereas only one placebo patient improved". 
The results of the research also showed that 4 out of the 8 patients that received CBD became seizure free. This study, although promising, consisted of only 15 people so is limited but it does lay the foundation for more substantial research in order to help verify the effective use of this oil. A number of studies and clinical trials have been timetabled and can be viewed at NCBI-Pubmed.
How to ensure the best  CBD quality
The industry is mainly unregulated so vape liquids including CBD vape oil, or e-CBD e liquid can be made just about anywhere; in a controlled sterile clean room laboratory or literally in a garage or anywhere between these two extremes.
To our knowledge no company has been publicly exposed with any legal action for making CBD liquid in "garage" type facilities but there are many that pay no attention to the environment these liquids are mixed or bottled let alone where the raw material originates.
Source: Imgur 
A recent exposure by motherboard.com of one such e liquid company, Dr Crimmys E-Liquid  of Gainesville USA shows a desperate if not worrying picture.
Although now it has been reportedly rectified, this situation is still all too common.
Until full regulation of CBD oils and other vape liquids is complete, users need to be vigilant. Make sure you buy pharmaceutical product manufactured in proper laboratory conditions. The images below show modern state of the art automated laboratory clean rooms producing CBD vape oils and e-liquids available from VSAVI.
Companies such as VSAVI.co.uk who sell CBD vape oils go even further and ensure production is in ISO certified clean rooms and laboratories.
CBD vape oil reviews
The best CBD oil to vape must have 100% natural ingredients with no artificial flavourings, colours, preservatives or other allergens and must be laboratory prepared. There are very few CBD products out there that will qualify under these rules! However one that does is VSAVI Organic CBD oil vape range. Their range of CBD oil qualifies under all of the conditions including only natural ingredients. If you desire a flavoured CBD vape simply mix a drop or two of their clean TPD compliant e-liquid to your CBD oil before vaping.
Hemp CBD Vape Oil Concentration
VSAVI offers a range of CBD oil concentrations from 50 mg strength to a very high 200 mg strength. Users of vaping devices that facilitate sub ohm vaping levels need to use the lower strengths (50 mg CBD) while users of CBD vape pens should try the higher strengths, 100 mg or even 200 mg strengths.
With higher vapour production from sub ohm devices comes higher lung absorption rates of the active ingredient in CBD e-liquid whilst with lower vapour production from the smaller scale e cigarette devices comes lower lung absorption rates of CBD. Getting the right strength accommodates both methods equally well so that the user of each type of vape method are ensured approximately equal CBD absorption. Don't be fooled however by price – the 50 mg may be half the price of the 200 mg strength but sub ohm vapers will be getting through their juice at more than twice the rate of a user using a quality CBD vape kit.
See our CBD vape pen review section to find a CBD vape device that best suits your needs.
What are the benefits of non-psychoactive CBD oil?
There have been a number of publications regarding the applications of CBD oils including a significant publication by the National Centre for Biotechnology Information advances (NCBI) on Cannabidiol (CBD) for neuro-degenerative disorders. The author of the study is The British Journal of Clinical Pharmacology and benefits include the potential for use in treating neuro-inflammation, vomiting and nausea, oxidative injury, epilepsy, anxiety and schizophrenia. Whilst the mechanism for why it works is not known fully, research has indicated that CBD does appear to help us in a number of ways.
An abstract from the NCBI Study States
Cannabidiol (CBD) is a phytocannabinoid with therapeutic properties for numerous disorders exerted through molecular mechanisms that are yet to be completely identified. CBD acts in some experimental models as an anti-inflammatory, anticonvulsant, anti-oxidant, anti-emetic, anxiolytic and antipsychotic agent, and is therefore a potential medicine for the treatment of neuroinflammation, epilepsy, oxidative injury, vomiting and nausea, anxiety and schizophrenia, respectively. The neuroprotective potential of CBD, based on the combination of its anti-inflammatory and anti-oxidant properties, is of particular interest …
What can CBD Oil potentially alleviate?
Inflammation
Psychosis disorders
Beauty products contain CBD – products can increase elasticity in skin and reduce acne and wrinkles
Anxiety and depression
Nausea and vomiting
Neuro-degenerative disorders