Best Box Mod UK
KangerTech TOPBOX Mini Review – It's Simple!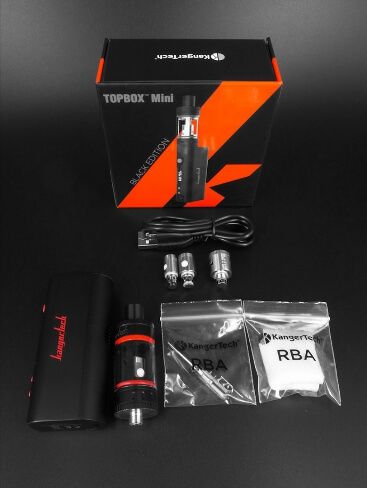 The Kanger Subox Mini was the best box mod or vape mod UK for sub ohm vaping. The new upgraded Kangertech TOPBOX Mini is the upgraded Kanger KBOX version allowing temperature control and top-fill versatility. The Kangertch Topbox Mini vape mod takes all the best ideas from the "cloud chaser" and sub ohm mod range of box mods and simplifies. It is also a very cool looking box mod device. Here you get a hybrid regulated device capable of exceptional vapour production offering both pre-built and DIY RBA options. In addition by offering atomizers of difference resistance you can use the device as a sub-ohm mod device or simply as an e cigarette or vape pen.
Vape Pen or Vape mod + Sub Ohm Vaping?
As an e cig or vape pen though, if you don't need sub ohm with the massive clouds but do want to migrate away from smoking there are better choices, simpler, smaller and more convenient devices that will deliver your required nicotine. With the Kbox mod though you can decide to use it like a vape pen by using the higher resistance coil i.e. not the sub ohm coil, but is is a bit cumbersome in comparison to the smaller high quality vape pens you can buy. With the Kanger Kbox you can also decide on which route is best suited to your needs – pre-built or DIY coil. At any time you can also switch between sub ohm vaping (where the vaper inhales directly from the device into the lungs) and normal vaping (vapour to mouth and then to lungs as in traditional smoking or using an e cig) should you wish to by using the correct resistance coil. But standard vaping with such a device, as stated above, seems to defeat the object of having a sub ohm device – far better to have a quality vape pen imo. In addition the Kanger TOPBOX Mini vape mod offers an excellent range of power options to fully experience sub ohm vaping, "sub-ohming", as a style of vaping. See our advantages and disadvantages of sub ohm vaping, what are the risk and dangers?
KangerTech Topbox Mini Accessories Provide Versatility
You can use Kanger's own optimised tank system – the KangerTech TOPTANK with various coils and wicks etc. or should you wish to experiment with other manufacturers sub-tank set-ups the Kanger box mod is compatible with industry standards. However if you want the best, Kanger TOPBOX Mini offers everything you need and more. I would point out that I cannot see a compelling reason why one would want to experiment if the box kit itself does everything you wanted it to … and more. However the option is there if required. Simple options like these make the Kanger the best box mod for sub ohm vaping.
KangerTech TOPBOX Mini – Best Box Mod Review & Spec
The Kanger TOPBOX Mini is a relatively inexpensive regulated vaping mod, not  a cheap box mod but you get what you pay for, and offers significant user options and
safety options that can involve the relatively complex to the very straight forward methods of vaping depending on the user's desire. The full specifications and safety features are given below at the end of the review. The build quality is very good and this is also a solid vaping mod device.
This box mod puts out a decent 7-75 Watts and is capable of handling resistances as low as 0.1 ohm.Temperature is variable between 100-300 degrees C. The TOPTANK mod kit contains pre-assembled temperature control (TC) coils including 0.15 Ohm Nickel (Ni200), 0.5 Ohm Stainless Steel TC and a 0.5 Ohm Clapton Coil. In addition the Kangertech box kit also includes an improved RBA for higher wattage use, the best in sub ohm vaping for the avid cloud chaser! All the required parts are included in the kit including wick, coils, tiny screws and a compatible screw driver for those who like DIY too! The KBOX is also compatible with the SSOCC range of atomizers too.
Using the Kanger TOPBOX Vape-Mod
This compact small box mod device, just over 3 inches long (ex-tank) feels neat in the hand and with its various coil options and variable airflow supports the needs of most vapers from the experienced to the new. However for the majority of smokers looking to transition to vaping the straight forward much smaller e cig will be the better option – see the review section of the site. For those wanting huge clouds this is the vape mod to get. Simply switch the KBOX on or off with 5 clicks of the user switch. Alter the wattage or temperature up or down using the additional smaller + and – buttons. When starting out you will need to find the optimum power for your particular e liquid & mod combination, i.e. taste and vapour production. This is relatively straight forward and is done by adjusting power from a low wattage to a higher wattage (higher temperature) in small increments, at some level the vapour will feel slightly warm as you inhale and this gives a clue that you are near optimisation – you then need to tweak the power up and down around 1 -2 watts
(calibrated in 0.1 watt intervals) where you should find a comfortable vape that produces the required taste and vapour levels from the mod. This level will be variable depending on you, the coil you are using and the e liquid in the tank. A PG e liquid will require a different setting to a VG e liquid. Avoid the temptation to use high settings, around 20-30 watts will suit most sub ohm set-ups. Kanger include a handy crib sheet with some recommended power levels for each coil resistance and a combination of e liquid mixes for their box mod which does make the whole thing easier than you think. You do need to remember to prime your new coil by dripping a little e liquid onto it prior using and leaving it to absorb the e liquid for 5 minutes.
Using the LED Information Screen
The output LED Screen is small, not the absolute best but easily readable with details of battery life remaining, current resistance of coil and power/watt output. Always check to ensure you are using the correct power setting when switching between coils.
Charging the KangerTech Unit
The box mod unit is easily charged using mini port and USB. Ideally you need to buy 2 compatible Kanger Topbox Mini batteries and a battery charger is very handy, charge the spare whilst you are using one ensures you never get stuck! The battery fits at the rear of the mod device, it is housed in a neat magnetic lock snap on lid. There is also included in the kit a red sticker – this is because the battery lid cover has vents – by covering the battery with the red sticker ensures that the colour co-ordination of the device is maintained – a nice touch that would have easily gone amiss. Kanger have literally thought of everything?
Kanger Topbox Mini Settings
The KangerTech TOPBOX Mini instruction manual is very detailed and gives  full explanation of all the Kbox settings. There are 3 setting buttons, one of which doubles up as the on/off switch and the activation button for vaping. The other two vary the wattage, the "+" increases power and the "-" decreases power, the output wattage is shown on the OLED screen. The only other setting is the adjustable airflow which varies the air that is inhaled with the vapour as you inhale. This can be used to restrict the air flow, eg when you are using a higher resistance coil for standard vaping or increase airflow for maximum "cloud" output when used with the sub ohm coils. Different e liquids behave differently at different power settings so you need to alter the power to suit your specific e liquid. Start low and increase the setting until you reach what you feel is optimum. The Kanger Topbox kit also includes a crib sheet that gives user settings for various PG/VG e liquid mixes which is helpful.
Our Verdict on the Kanger Sub Ohm Device
Kanger have manufactured a top-quality vaping mod device that allows both new and experienced vapers to enjoy big cloud vaping but the big difference is that they have given you straight forward options. For a few pounds more get the TOPBOX Platinum for a very cool look. For those simply wishing to migrate away from smoking to vaping there are better, smaller and simpler options though. The options with the Kanger KBOX mod box will allow the user to get involved with vaping at any level but with a large scale device that may not suit everyone. If you want a larger scale device that blows plumes of vapour though, once you know what you like Kanger have accessories that will suit your vaping style. You can at any time choose a different vaping style too – extreme or regular! There are some good devices out there and some great devices out there like the Smok Alien 220W, but for simplicity and freedom this is the best mod UK!
Prices From £55.00 to best Price around £49.00
If you want a complete sub ohm mod kit including Kanger TOPBOX full kit plus top quality Samsung battery and battery charger and VSAVI ECO-vape cloud e liquid, save over £20. Pure eLiquids offers a heavily discounted best cloud chaser Kanger kit here.
---
The Kanger TOPBOX Specifications
Basic Design Features
New Airflow Design
510 spring loaded. Drip tip compatible (Delrin)
Improved RBA, easy assembly higher wattage
Adjustable airflow
TC 0.15 Ohm Ni200 Coil
0.5 Ohm TC Stainless Steel
0.5 Ohm Clapton Coil
TOPTANK Mini, Glass with aqueous ceramic coating
What is in the TOPBOX Mini Kit
KBOX TOPBOX Mini
Kanger TOPTANK Mini 4ml Top-Fill
1 X TC 0.15 Ohm Ni200 Sub-Ohm
1 X TC 0.5 Ohm TC Stainless Steel
1 X 0.5 Ohm Clapton Coil
1 X RBA Mini Section
RBA accessories Pack
Japanese cotton Sheet for replacement Wicks
USB Charging Cable
Your Box Mod user Manual
KangerTech KBOX User Summary
5 click on/off
OLED display at standby mode
+ and – watt adjustment
Temperature Control. NiChrome, SS, Ti, Ni: 100-300C
OLED battery level check
OLED resistance (Ohms) and output (Watts) values
Micro USB cable to charge, OLED displays charge state – off when full charge
Pass through facility – vape and charge simultaneously
Kanger KBOX Protection and Safety Features
10 second usage protection – OLED displays "10s OVER"
Battery Protection – too low cell indicator flashes to warn
PCB over temperature protection and battery stop function
Atomizer open circuit – LED flashes "9.9 Ohms"
Short Circuit Protection – LED flashes "0.0 Ohms"
Battery Polarity warning – if you get it wrong way round!
Best Mod - Kanger TOPBOX Mini Review
Product Quality -

85%

Product Ease of Use -

85%

Vapour Production -

97%

Flexibility and Variety - Innovation -

90%

Accessories -

90%

Price -

85%
Our Take
For a straight forward high quality Box Mod Kanger's TOPBOX will take some beating. With it's various flexibility options for those who like building their own and for those that don't or for those that just want the choice this is an ideal vape mod for both sub ohm and none sub ohm vaping.
Cons
None really. BUT if you just want a simple device to quit smoking then there are simpler smaller e-cigarettes that would suit you better.
---
The Selection Criteria:- The best Vape-Mod UK Brand 2016
A known and respected manufacturer of quality e cigarette devices & mods as reviewed by the best vape review sites.
Established as one of the best box mod devices in its class at reasonable cost.
A mod device that offers vapers the opportunity to delve into building their device if they

want

to.
A box mod device that offers vapers pre-built options should the user NOT want to get involved with the nitty-gritty of building their own atomizer BUT does want to get involved with sub-ohm vaping.
Safety protection – eg. short circuit and overheating protection
Huge vapour production capabilities.
Simple in use.
---